Silva Screen has revealed details of two retrospective Doctor Who boxsets featuring music from the show.
The first release is a 4-CD set encompassing music from all eleven Doctors' eras, including many pieces that have never before been released, with tracks from composers such as Ron Grainer, Delia Derbyshire, Dudley Simpson, Paddy Kingsland and Mark Ayres right through to Murray Gold.
The second release is an 11-CD boxset – one CD for each Doctor – presented in specially-created TARDIS packaging. This highly collectable set will be strictly limited.
The tracklisting and release dates will be announced soon.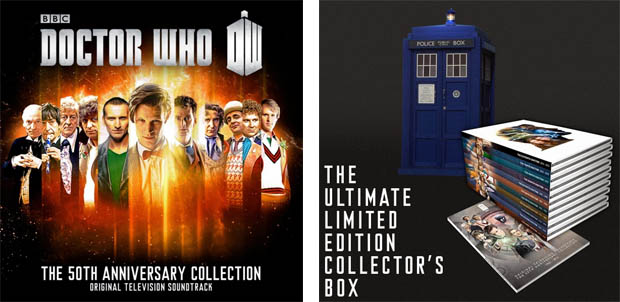 'The Day of the Doctor' airs on BBC One on Saturday 23 November.
> Find out all the latest info on 'The Day of the Doctor' in our news summary.
Whats your all-time favourite piece of music from Doctor Who? Let us know below…
> Order the 50th anniversary special on DVD on Amazon.
> Order the 50th anniversary special on Blu-ray on Amazon.
Watch the 50th anniversary trailer…