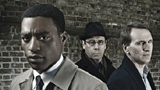 Appropriately, given that it begins with the discovery of a body, the opening episode of The Shadow Line moves at a pace that's almost funereal, although that isn't to say it's boring. It's simply slow – methodical, even – the plot unfolding so gradually that the movement is barely palpable. It's something refreshingly rare in British-made police dramas: the story has room to breathe.
It's an interesting story too, intrigue building from the outset. Crime boss Harvey Wratten is released from prison under mysterious circumstances – a royal pardon was granted to him and his hot-headed, mentally-disturbed nephew Jay (Rafe Spall) – but he is found in the back of his car only a few hours later, murdered. DI Jonah Gabriel (Chiwetel Ejiofor) is the policeman assigned to find out who killed him. Meanwhile, Joseph Bede (Christopher Eccleston), one of Wratten's men, left in temporary charge of the criminal organisation after the murder of his boss and the disappearance of the man Wratten had left in charge during his incarceration, takes it upon himself to do the same thing.
The two men's early investigations run along parallel lines. There are also similarities between them, although it's a fairground mirror kind of reflection: analogous but distorted. Bede wants to leave behind the criminal fraternity for good, keep his legitimate business and care for his wife, who has Alzheimer's disease. Gabriel, having lost a colleague and his memory of the killer (both thanks to a bullet that now lies lodged permanently in his brain), simply wants to get on with his job – and, if possible, his life.
Eccleston brings a slightly nervy diligence to the role of Bede, with which he also imbued DI David Bilborough in Cracker. Although the characters are poles apart, both in terms of time (it's almost seventeen years since Bilborough was murdered by Albie in 'To Be A Somebody') and upon which side of the law they stand, there's a palpable, Bilborough-esque sense of moral duty in Bede that makes him seem more like a policeman than a drug dealer. Eijofor's Gabriel is an even more interesting character. His ethics and his judgement are called into question, both by the family of his murdered colleague and the commander of the police force, and an unexpected discovery at the climax of the episode reveals there is a great deal more to the amnesiac policeman than first met they eye.
Despite its gentle pacing, and the familiar hierarchical structure of the principal police officers -DS Patterson (Richard Lintern) acts aloof towards Gabriel and questions his approach at every turn but backs him before his superiors; DS Lia Honey (Kierston Wareing) is streetwise, earthy and fiercely loyal – this is no ordinary cop drama. It's brutal, unflinching and actually rather nasty in a way that British police shows rarely are. In fact, with its washed-out, almost monochromatic visuals and its protracted length – seven episodes – it's more in keeping with imported European shows such as The Killing or Spiral. If it builds on the promise of this first episode, its place in such exalted company will be assured.

Airs at 9pm on Thursday 5th May 2011 on BBC Two.