Fresh from its success in cinemas earlier this year, the Dad's Army movie arrives on DVD and Blu-ray this week.
The hit film stars Toby Jones (Captain America) as Captain Mainwaring, Bill Nighy (Love Actually) as Sergeant Wilson, Michael Gambon (Fortitude) as Private Godrey and Catherine Zeta-Jones (Chicago) as journalist, Rose Winters.
> Buy Dad's Army on DVD on Amazon.
CultBox caught up with producer Damian Jones (The Iron Lady, The Lady in the Van) for a chat about bringing the classic sitcom to the big screen…
Dad's Army has always been established as one of British TV's all-time comedy classics for decades. Can you tell me how the idea to do a new film came about?
"I was bored on a Saturday night at my home, not wanting to watch The X Factor or The Voice, channel surfing and remembered of course Dad's Army – and there it was at 8 o'clock on BBC Two and I enjoyed that particular episode.
"Then it was on the following week and the following week and the following so I started researching it slightly incredulous that this 30/40 year old show was still playing at primetime and then looked at the audience reach, demographics numbers and 2-3 million every episode and saw that it would trounce everything at Christmas if they did the '70s movie, it would trounce anything on other channels again with its audience ratings.
"So, I got in touch with Jimmy Perry and the Croft estate, David Croft's widow Ann Croft and her family, and they were all for it, so it sort of started to find its feet and Oliver Parker came and gradually the cast came together. So, I think that we're describing about a 3-year process but hopefully you get the drift."
What did you want to achieve with this revival?
"I just thought, 1) here's an opportunity to, you know, the grey pound of cinema, as it's so called from The Best Exotic Marigold Hotel. I thought this would be something much better that might appeal to them.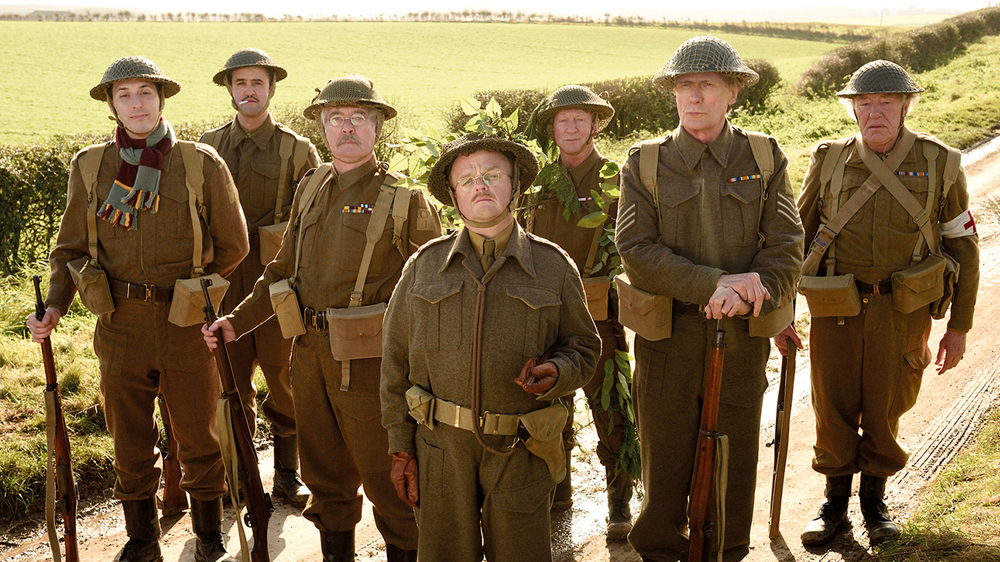 "I also thought the comedy would still do things for them, slightly timeless because it deals with all these desperate individuals and a different society that, you know, it's basically class comedy at the end of the day and I thought that still plays with very strong conceit. They're all thrown together and can't really say that they're really fond of each other and I thought that could play now.
"I think we managed to pull off a terrific cast with all these great stage and screen names and characters."
How involved were you with the casting? How important was it to respect the original actors and the audiences who grew up with their characters?
"I always felt that, and I'd heard that concern from people, but I also felt that if we cast it right and I think we achieved that in the film within that first five minutes people will see the new faces in those roles, so we were always casting Captain Mannering, we were never casting for Arthur Lowe, or we were casting Sergeant Wilson not John Le Mesurier and on and on we went.
"I think some suitable attributes of the original cast were important to us so that the audience felt that Mannering should be shorter than everyone else, which fortunately the great comedy actor, Toby Jones is. That was always important, I think and the physical comedy contrast between Wilson and Mannering hence, you know, we always wanted to make sure that joke played.
"Godfrey is sort of, you know, the oldest which again, actually Tom Courtenay who plays Jones was in real life slightly older than Michael Gambon.
"Jones was interesting because Jones is obviously played by Clive Dunn who was the youngest aside from Pike in the original series, but we were obviously able to cast someone more age appropriate for the character of Jones, with Tom Courtenay, which I think he did it proud.
"And then Pike was always going to be tall and lanky, I guess that was the other physical attribute. But we were always aiming for the characters as conceived by Jimmy Perry and David Croft rather than the actors who made them famous and I think we did well."
Do you have any sequels planned for the film?
"Not yet, but I'm sure the life of the film still has a way to go, obviously the DVD release is a big part of that so once we can analyse the appetite that's out there for it so we can sort of get our heads around whether that is worth doing or not, but certainly everyone had such a good time and it had been so successful at the box office that I think there's a will for it.
"We just have to find a way for it, but it will then be about the script and the story – what's a good reason to bring everyone back so it'll go down to the screenplay again, as it should be."
Are there any special features on the DVD release? What can fans expect?
"Some behind the scenes banter and some laughter and some outtakes. A bit of a history about how this new incarnation came about from Jimmy Perry and the Croft family and I think the appreciation society did a little bit, just all the different elements and components that helped us sort of stay true to the original but also do something different."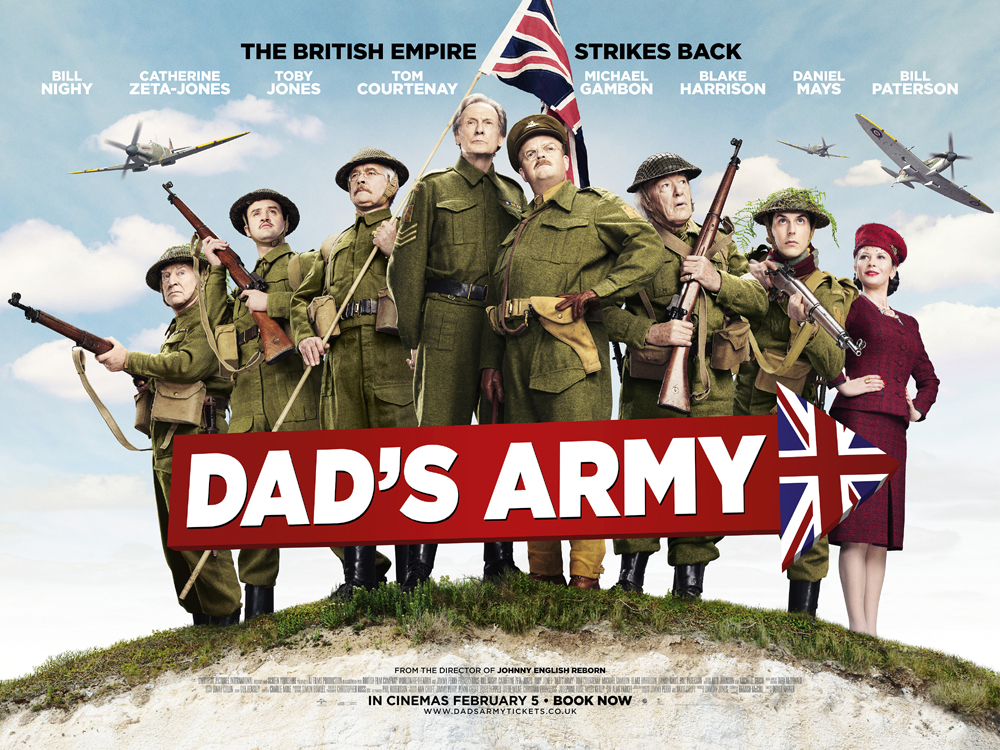 What do you think is the enduring appeal of Dad's Army?
"I think it's quintessentially British, I think it, as I said before, deals with class comedy that I think people like to this day and I think you can see that from Monty Python to David Brent to…on and on.
"So, I think it's something that the British enjoy – these desperate blokes all thrown together doing the right thing by each other. It's not particular offensive, it's sort of middle-of-the road but in a good way and a positive way that I think people enjoyed and that's why the original still plays to this day.
"You know, we had people going to the cinema who hadn't been for years to come and see this. I think there's a bit of nostalgia, but also I hope we delivered on this nostalgia, but also brought something new along with our plot and cast and also our new characters having elaborated a lot of the female characters who had been intentionally underdeveloped in the series that we were able to give some 3-dimension to."
Another comedy classic, Absolutely Fabulous, is releasing a film this year. What can you tell us about the new film?
"Well, hopefully it will do just as well or better, with obviously the difference being it's all the original cast. Jennifer Saunders has written it and Mandie Fletcher and Jon Plowman are also involved behind the scenes directing and producing it respectively.
"I don't know if it's their swansong, but certainly their threat for a long time and I'm proud to be a part of it and proud they approached me to help realise it. Hopefully again it will deliver to the core fanbase and also people who aren't familiar with the series, but just enjoy a good laugh."
How difficult is it to adapt a half-hour studio sitcom into a feature length film?
"It's always tricky with all adaptations whether books or plays or indeed sitcoms, because obviously you have the film journey, you've got longer to explore the characters and character arcs and also with comedy you want to keep the laughs coming at a good pace as well as have people invested in the narrative and the plot and emotional journey of the characters.
"When you know them so well, obviously you have to bring certain new elements, but also not reinvent them to such a degree they're unrecognisable. So, it's not easy but Jennifer Saunders was brilliant at it and I believe we succeeded. I guess the general public will decide, but we feel we're in a good place."
There are a number of 'celebrity cameos' in the film. What can you tell us about that process? Were there any who wanted to be in the film but didn't make the final cut?
"I think everybody is in who volunteered themselves. I mean obviously the series had had a lot of guest spots and French and Saunders had a lot of celebrity cameos so Jennifer knew the friends of the court so to speak, so she wrote in others that were funny to have or she was aware that they were fans of hers or the show.
"It was sort of an embarrassment of riches to deal with to be honest. We were not turning anyone away, but if anyone did fall out we were able to replace them quite swiftly because people hold it with such affection and especially the fashion world. I think we thought it might be a bit tricky, but they particularly take it to their heart because it's everyone making fun of themselves."
Are there any other classic comedy series you'd like to revive as films?
"I'm taking a break! I need to do something different for a bit."
Do you think there's ever a danger of relying too much on nostalgia?
"Probably. That's certainly not what I was aiming to do – I think we've created fresh entertainment for now that has a wide-ranging potential audience.
"I think, like any genre if people try and mimic it or copy it, you will flood the market and people will get bored and cynical and not interested, but that can be the same of gangster movies, to urban dramas to comedy based on successful television shows."
A current trend in cinema is 'mash-ups'm particularly in the superhero genre with recent films Batman V Superman and Captain America: Civil War each featuring characters from multiple franchises. Do you think a British sitcom 'mash-up' film could work?
"I don't know. If it was written well enough, if it was funny enough, I mean why not? I don't know where you would start. It's not something I could imagine myself doing."
Away from comedy you're also an executive producer on Noel Clarke's Brotherhood, the closing part of the trilogy, which began with Kidulthood and Adulthood. Is there anything you can say about the new film?
"It will bring closure. I'm very proud of those films and I think it's fair to say that certainly on the diversity front and urban front the fact there was a sequel was pretty rare certainly in the last couple of decades.
"The fact there's a third one speaks volumes to both Noel and what he created. Hopefully the third one will deliver as much as the other two did to both older and younger audiences."
Dad's Army is out now on DVD and Blu-ray, courtesy of Universal Pictures (UK).
What did you think of the Dad's Army movie? Let us know below…
> Follow Tobias Forrest on Twitter.