To celebrate the show's return, CultBox caught up with Hannibal showrunner Bryan Fuller for a chat about what's coming up in Season 3…
Michael Pitt made a considerable impact as Mason in Season 2. How difficult was it to cast a replacement for the new season?
"Well, you know, it's very unfortunate that Michael chose not to come back for the third season but the great news is that Joe Anderson was so eager to step into the role, that he's made it his own and we'll have as iconic a performance as Michael's, I believe.
"And one of the fun things about the early conversations with Joe, about the character of Mason Verger when we first sat down to talk, he wasn't told which character he was being asked to play and I asked him if he had seen the Ridley Scott film and he said 'absolutely' and how brilliant Gary Oldman was in that Mason Verger role, that's who we want you to play post disfiguration and he was so excited, he was like: 'that's the guy? That's the character you want me to play?'
"So it's very exciting to have someone step into another actor's shoes and yet be so committed to make the role his own and if anything his style of Mason Verger is more of a homage of what Gary Oldman did in the Ridley Scott film than anything Michael Pitt did in Season 2."
You've assembled quite an impressive guest cast this year with Richard Armitage signing on to play Francis Dolarhyde. What was it about Richard that made you realise he was the Francis you were looking for?
"Richard, in many respects, is the manifestation of how Thomas Harris described Francis Dolarhyde in the novel in terms of a handsome man with a scar that humbled him and there's a Shakespearean quality to the tragedy of Francis Dolarhyde.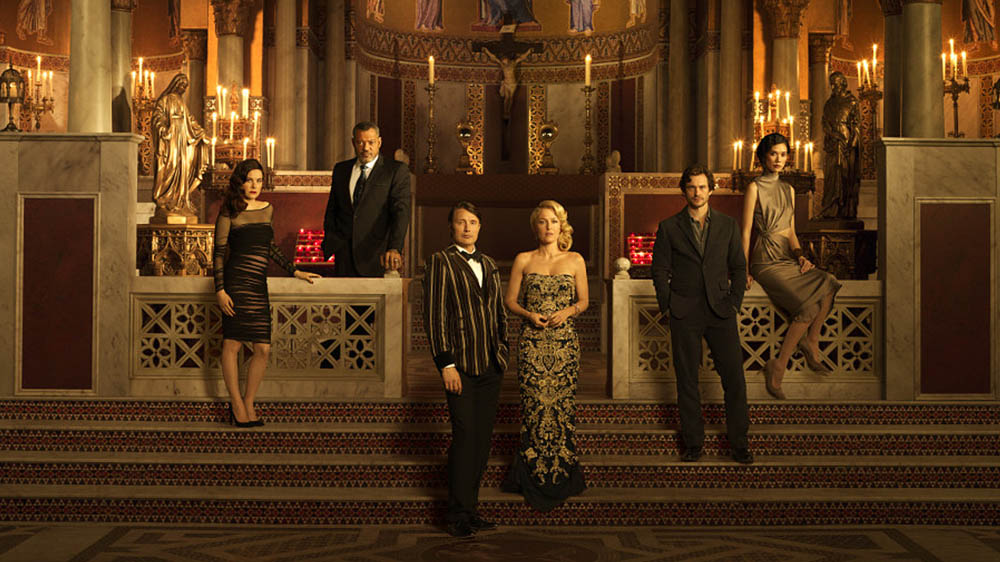 "Richard is so beautifully trained as an actor and was able to inhabit the role in such a manner that you forget that he's a horrible murderer of families and you witness the tragedy of the character and there were many times in the editing bay where both the editor and myself had tears in our eyes because his performance was so heartbreaking and I can't wait for people to see it."
I'm really looking forwards to seeing him on screen.
"He's wonderful in the role. I can't believe how lucky we were to get him and also how committed he was and, when he shared with me his journals of the character, how much research he was doing and how thoughtful and meticulous he is at crafting characters, it was a joy to see, it was so impressive to witness such a brilliant actor at the height of his game."
Since its debut in 2013, Hannibal has been a critical if not a ratings success for NBC. What do you think it is about the show that people find so appealing?
"I like to believe that its appeal is that it is different and it feels different and it's paced different than most television and it has a style to it that is reflective of the style of the title character and I like to think that the show is as sophisticated in its representation of horror as Hannibal Lecter himself."
How do you think the new summer slot will affect the show?
"I'm not sure if it will have a dramatic effect one way or the other because it's not like we were burning out the Nielson boxes in the US as it were, so I think it will help us to be clear of all the competition and summer is a slightly more open slot.
"I think that hopefully more folks will find us and we will have word of mouth from the previous two seasons bringing new eyeballs to the show, but it's really hard to say how it's going to affect us. I hope it's best for the show, I certainly don't think it could hurt the show."
If Hannibal wasn't picked up for a fourth season in 2016 would you consider the possibility of doing a movie or look at other alternatives such as Netflix or Amazon to get the show made?
"Absolutely, I think the way we end the third season is how we've ended the first two seasons in that we design a finale that also functions as a series finale and paint ourselves into a corner that is a lot of thought to paint ourselves out of and that's always been my approach to the show because given my history with the shows I've created, I've never gotten to a third season before.
"To get to a third season and I don't want to be caught with my pants down where we end the show and that hasn't been designed, so every season has been designed to end with the hopes of continuing on and the way we end Season 3 actually sets up a great paradigm for a film because it's sort of a board-clearing sweep."
Continued on next page…