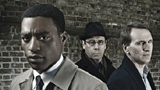 Chiwetel Ejiofor plays DI Gabriel in The Shadow Line, Hugo Blick's sophisticated and gripping conspiracy thriller which delves into the heart of human morality, coming to BBC Two in May.
When police officers discover the body of a man, shot at close range, they soon realise the victim is Harvey Wratten, head of one of the UK's largest crime organisations. Having served two years of an 18-year sentence for his part in importing £11m worth of heroin into the country, Wratten had only just been released from jail under the very rarely obtained royal pardon.
Assigned to investigate Wratten's death is Detective Inspector Jonah Gabriel (Ejiofor), in his first case since being shot during a botched police operation that left his partner dead. He has amnesia, caused by the bullet still lodged in his brain, which leaves him doubtful of his own moral compass and his colleagues regard him with suspicion. Gabriel has to follow an increasingly complicated line of investigation, all the while wondering whether he can trust anyone, not least, himself.
On the other side of the line is Joseph Bede (Christopher Eccleston), an associate of Wratten's, who has built up a legitimate fruit and flower business during Harvey's time in prison. Now, driven by a profound personal tragedy, Joseph finds himself planning one last deal: a massive drugs operation that he is desperate to see through, so he can retire and step out of the business for ever.
Watching from the shadows is the brilliantly lethal puppet master – Gatehouse (Stephen Rea). He knows how to find people. He knows their secrets and he'll find them when they are at their most vulnerable. As Gabriel begins to unravel the threads around Wratten's organisation, the web of intrigue becomes more complex – and the line that divides the players becomes increasingly blurred.
What were your first reactions when you read the scripts?
"I thought the script was terrific. I thought that the character was a fascinating guy, and an area of the police that I was really intrigued by – the whole concept of this sprawling investigation that takes on all these multi-layers and complex avenues. I thought that all the other characters that were in the piece were amazing as well. You're following these two major and very different storylines which are comfortably interweaving and connecting in different ways. The script ran really true and worked incredibly well as a drama and a thriller, so I was very excited."
Did it feel quite different to other scripts you've read in the past?
"It felt very character-based, it felt very honest from the point of view of the characters, and it felt like it really wanted to get involved with the stories of these people. In a way the crime and the investigation of the crime are the backdrop for these really complex characters who are brought to perdition – that's what is unique about this."
Can you describe Gabriel, where do we meet him at the outset of the drama?
"Gabriel is a cop in the police serious crimes department. He was involved in a case which ended up going badly wrong – he got terribly injured and has a bullet lodged in his brain which has caused him some short-term memory loss. So he's not entirely sure of the circumstances of his last investigation and how it ended, and more importantly, what side of the line he ended up on – whether he was compromised in any way. We find him as he's beginning an investigation on a new crime, now that he's returned to the force. That's the state of mind we find him in – someone trying to find his feet but with a million unanswered questions about their own past."
Was it difficult to play a character who doesn't even know who he is?
"I found it exciting to play that because every scene, no matter how small it is, is informed by his own personal investigation to try and uncover his own narrative. His struggle to do that is a really integral part of the story and it upsets and unbalances all the relationships he has. So it was great to be able to play such a strong and thorough sub-text through everything. He's somebody who works on a number of different levels, and that's always a great thing to play."
How did you prepare for the role?
"I took it from the perspective of knowing as much as he knows about it, which is probably not very much. It's one of these characters where you uncover the journey that he's going on, with him – especially in terms of his personal investigation into his amnesia – but also in his work investigation which is the death of a gangster."
How would you describe working with Hugo?
"I thought Hugo was amazing to work with. Even though he'd written the script as well as directing, he was very open to seeing how things developed and played within the context of what everybody brought to it. He was incredibly smart about the script and about these characters, and he was effortless to work with and so insightful in terms of where to place things.
"The cohesion of the story and following the arc of the character over seven episodes is quite a challenge, and he was very aware of how to navigate the characters nuances. He has a wonderful and a very easy way, and his collaborative work with everybody on the set was great. I was just very excited to work with Hugo."
Is it an extra pressure saying the lines that the director has written, or is it a bonus?
"I think it's good: every point of reference is in one person in terms of the script, so you know that once you're making decisions about the character when you're shooting, you have ultimate confidence that Hugo has all those things in mind in terms of where the character is going, and his own genesis with the character from when he wrote the piece. So, it's very comforting that somebody who has such complete understanding of the character is also directing – it feels very right in this case."
Had you seen any of his other work?
"I saw Sensitive Skin with Joanna Lumley before Hugo and I worked together and I just thought it was terrific, it was one of the reasons I was very excited. It's very different and one of the things that I was excited by was how he was able to cross over to this genre and do it in such a unique way. But actually when you watch Sensitive Skin you're aware that Hugo is reinventing and reworking the genre in all these special, delicate and subtle and humorous ways.
"And there's a great lightness of touch with how he directs and how he writes and the performances he elicits and I actually felt that transposed into this genre – the thriller genre, is actually a really excellent transposition. I think it worked really well."
Obviously there's an incredible cast in this drama, any surprises?
"No I wasn't surprised, I think I was more delighted by the cast who was coming together. I was a huge fan of everybody who was cast so it kind of makes it easy for me. I think it was a really inspired group of casting and I think the characters are so unique and so different that it was interesting to get a very diverse group of actors together, and actors who are sometimes in completely different sorts of projects, and pool them together for this. I think it all worked really well, it's a really interesting cast and I'm excited to see the whole thing put together."
Most of your scenes are with Kierston Wareing, what was it like working with her?
"Kierston is an amazing actress, she's somebody who internalises so much of the journey, but is also really expressive and commits to the character and to the dynamic between characters, and you feel very comfortable and very safe around her as an actress. She's somebody who is incredibly truthful on screen and I think that's a rare gift for somebody to be able to do that at all times when you're in character – I think she's great to work with."
What was it like being back in London for filming?
"It was great to be back in London and it was definitely a lot of fun and a real treat as part of the job, even though the traffic was a killer!"
What are the things that you miss about LA when you're over here filming?
"Apart from the sunshine? I do enjoy being out in LA, but it's funny, I definitely enjoy splitting my time between the two. But, at the moment my whole set up is LA, so I have a lot of people that I miss and a lot of projects that I'm involved in. It's the whole thing that I always like to get back to, but also at the same time I'm slightly torn because the same is true of London."
What can the audience expect from The Shadow Line?
"I think it's something that's thrilling and engaging. It's got really great writing in it and I think it's going to look amazing and pretty beautiful. You've just got to follow the twists and turns as they happen. I think it's a really exciting and engaging piece of drama."
> Follow us on Twitter to get the latest The Shadow Line teasers and reviews first.