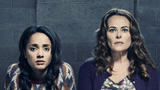 The week had begun strongly for the BBC with the second episode of Shetland attracting 5m (20.1%); but, for the second week running, this was not enough to beat ITV's Broadchurch, which slipped slightly to 6.4m (25.7%).
On Tuesday Channel 5 had its usual mixed bag of ratings with CSI once again drawing its largest audience with 1.7m (7.1%), CSI: NY held the middle ground with 950k (5.9%) viewers whilst Dallas continued to dwindle in the doldrums with just 375k (4.4%) in its late night slot.
Over on Channel 4 the final series of Shameless was up slightly on last week's episode, recording an audience of 1.2m (7.6%).
Lightfields is struggling on ITV with only 2.8m (12.5%) viewers switching on for the supernatural sequel to Marchlands. Channel 5's NCIS is proving to be Wednesday's CSI with 1.5m (6.5%) viewers and Law and Order: SVU was enjoyed by 670k (3.9%) straight after.
In the comedy world, after a very good start, Sue Perkins' Heading Out crashed to 678k (3.7%) viewers and is a long way from the 1.8m it launched with. Channel 4 launched The Mimic on Wednesday to the tune of 1.2m (6.7%), Being Eileen continued on Monday with a healthy 2 million (14.7%) viewers and army-based sitcom Bluestone 42 managed 541k (3%) for BBC Three on Tuesday.
Watch the Broadchurch trailer…
All data was supplied by Attentional, Digital Spy and The Guardian.
What have you enjoyed on TV this week? Let us know below…