The six-part series has been penned by novelist William Boyd (Any Human Heart). 
Adding another high-profile show to its roster, BritBox UK have announced they will premier Spy City this Christmas.
The glossy looking miniseries, which follows the exploits of agents in 1961 Berlin, stars Dominic Cooper (Agent Carter) as British spy Fielding Scott.
Here's the synopsis:
Spy City stars Dominic Cooper as secret agent Fielding Scott, who has been sent to 1961 Berlin by a clandestine division within the Secret Intelligence Service of Great Britain. His mission is to find out the source of the hemorrhage of vital security information.
The Russians, it seems, know everything. Someone in Berlin is giving away all the secrets of the Western powers – American, British and French. Fielding's is possibly the hardest job in the world. Clean up Berlin. Find out who the traitor is. And expose, arrest or eliminate them.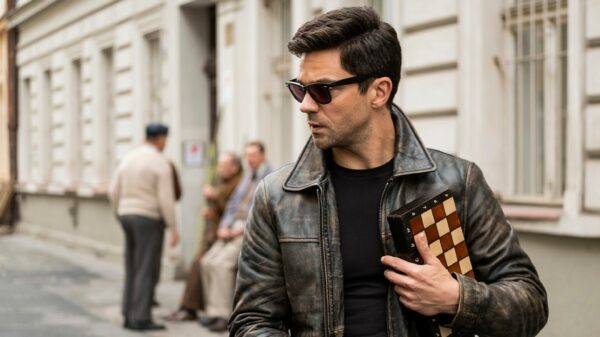 Joining Cooper is an international cast which includes Leonie Benesch (Around The World In 80 Days), Adrian Lukis, Johanna Wokalek, Romane Portail and Rupert Vansittart (Game of Thrones).
The show is directed by Miguel Alexandre (Gran Paradiso) and produced by LEONINE Studios' production banner Odeon Fiction and MIRAMAX TV
Spy City has already aired in Germany, and in the US on AMC (who we have to thank for a trailer):
Spy City's producers are Odeon Fiction's Britta Meyermann, Mischa Hofmann and Ann-Kathrin Eicher. Dominic Cooper, William Boyd, Thomas Augsberger and Bill Block are executive producers alongside Magenta TV's Michael Schuld, Sven Philipp and ZDF's Wolfgang Feindt and Annika Schmidt.
The series was co-produced by German public broadcaster ZDF, Seven Stories and Wilma Film, in association with Magenta TV and funded by FFF Bayern, Nordmedia, German Motion Picture Fund, Czech Film Fund and co-financed and executive produced by Miramax.
Spy City lands on BritBox UK on the 23rd of December – and it looks ideal for those long days between Christmas and New Year.