"But haven't you ever dreamed of a new life? To just wipe the slate clean, start again?"
After last week's introductory 'fish out of water' episode (Northern Exposure meets Death in Paradise), the second visit to The Good Karma Hospital wastes no time with a 'Previously' summary but settles quickly into a formula familiar to fans of gentle feelgood family TV drama like Death in Paradise, The Coroner or Heartbeat.
This week's cases include a young man found face down on the beach with no clothes or memory, a snake charmer gets bitten by a snake as the hospital runs out of anti-venom, a sick child with a connection to Dr Varma – all neatly tied up by the end of the episode. These are combined with minor plot developments for the main characters; mentions of Dr Walker's recent failed relationship and her long lost father, Dr. Fonseca's hostility towards religion, Maggie's decision to stay in India rather than return to the UK for treatment – this scene ending on the beach with the backdrop of a stunning (Sri Lankan) sunset.
Young Dr Walker continues to try to get to grips with her new life in India: the language, her colleagues (especially the brooding Dr Varma – "I don't care if this is nascent sexual tension or genuine dislike. In this hospital we must all find a way to work together") and her new mode of transport, a motorbike ("Treat her like a lover and she won't want to fight you"), which she takes on a hazardous journey through the unforgiving city traffic.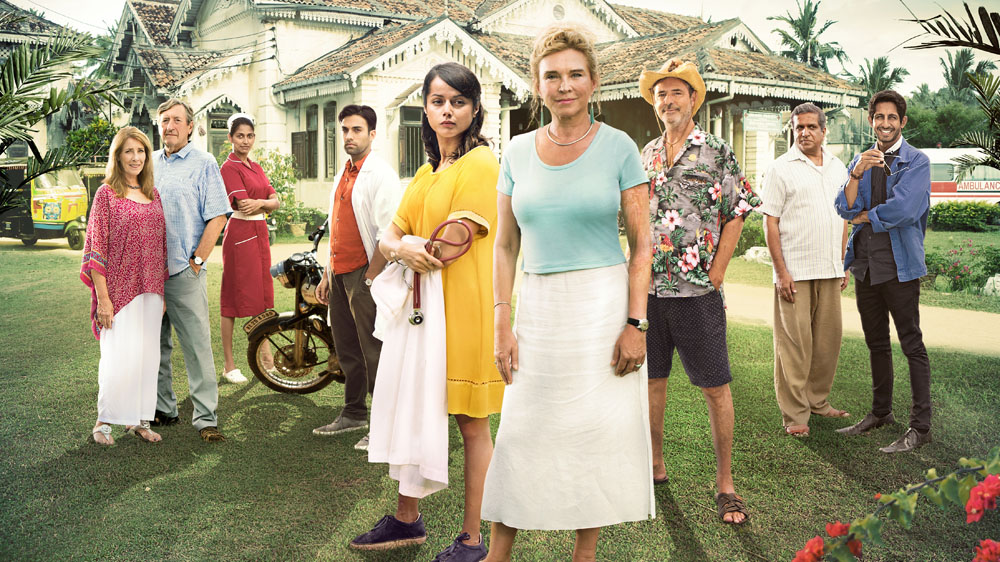 "Small children are equally disgusting the world over."
But it's the no nonsense, acerbic, Dr Fonseca – played by the ever reliable Amanda Redman, fully deserving of her top billing – who steals the show, whether dealing with medical emergencies or her love hate relationship with Neil Morrissey's comic relief roguish beach bar owner.
"He says his mind is a complete blank…you have a lot in common."
If you're looking for hard-hitting groundbreaking TV drama then The Good Karma Hospital might not be the preferred port of call, but its heart is in the right place and its post watershed time slot is clearly designed to attract the female upmarket target audience for whom BBC One's edgier 9pm Sunday dramas may be too much of a gear change after Call the Midwife.
The initial prognosis is that The Good Karma Hospital certainly displays all the signs of a long life as a successful, if safe, Sunday night series, possibly with regular transfusions of new acting blood, Death in Paradise style. Only time will tell if this diagnosis is correct…
Aired at 9pm on Sunday 12 February 2017 on ITV.
Buy The Good Karma Hospital on DVD on Amazon here.
What did you think of this week's episode? Let us know below…