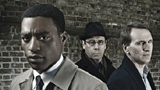 BBC Two's increasingly fascinating police drama reaches and passes its halfway stage in this episode, yet neither DI Jonah Gabriel (Chiwetel Ejiofor) nor Joseph Bede (Christopher Eccleston) appear much closer to accomplishing their respective goals than they were in the hours after the death of gangster Harvey Wratten. The plot continues to unwind, revealing a seemingly endless stream of unexpected strands and unexplored possibilities that beset and beguile both men at every turn.
Gabriel's investigation into the Wratten murder is seemingly helped by the arrival of Sean Gilder as Robert Beatty – the Customs and Excise officer with whom DS Lia Honey (Keirston Wareing) had a Matrix-inspired dust-up last week – but it soon becomes clear that the information he provides reveals more questions than answers. Meanwhile, youthful rent-boy Ratallack (Freddie Fox) chucks yet another spanner into Bede's plan for retirement from his criminal lifestyle.
Ratallack, who mixes childish cheek and adult menace with a coquettish line in camp banter for good measure – 'You still want to kiss me, don't you?' he coos to a policeman reluctantly forced to release the young bantam without charge after a rooftop pursuit – alleges to his drug baron sugar daddy Bob Harris (Robert Pugh) that a recently intercepted shipment of heroin was confiscated by the law as a result of Jay Wratten (Rafe Spall) being a grass. Wratten the younger denies it, saying 'I don't talk to coppers; it's a different world – us and them.' However, the similarities between Gabriel and Bede – both men are touched by traumas and secrets that they're trying desperately to keep from interfering with their work on either side of the titular line between good and evil – grow more pronounced as the weeks pass, the morals of right and wrong becoming ever more blurred.
But despite the excellence of Ejiofor, Eccleston and everyone else, it's Stephen Rea who once again steals the show as Gatehouse, the fedora- sporting (or is it a trilby?) Prince of Darkness who flits in and out of people's lives like a spider stalking around a living room: unseen, uncaught, but with an unmistakably menacing presence. Gabriel, with the help of Beatty, establishes Gatehouse's existence but little else; and even the people who meet the bad guy in the belt-up coat are deceived as to his true nature. A drug trafficker describes him as avuncular; Frieda Glickman (Amelia Lowdell) goes even further: 'He was quite sweet,' she says, 'sort of old-fashioned.'
Gatehouse is, of course, anything but. He's entirely modern – he spies on Frieda's husband Leonard (Cavan Clerkin), son of Harvey Wratten's missing moneyman, with a bank of electronic surveillance equipment straight out of the MI5 summer catalogue – and whatever sweetness he has is of the kind a diabetic could consume without suffering any ill-effects. A horribly tense scene involving a baby monitor and the infant whom the device is designed to protect demonstrates how efficiently and effortlessly ruthless Gatehouse can be – as does the episode's closing sequence, which will probably keep all countryside cyclists off their motorbikes for some time to come.
The struggle between gritty procedural thriller and verbose theatrical epic is still alive in The Shadow Line's black heart, but – unlike DI Gabriel, who is accused by his boss of having something similar – this identity crisis is no longer a problem. The show is now too gripping to gripe about.

Airs at 9pm on Thursday 26th May 2011 on BBC Two.