Ricky Gervais' After Life, an upcoming series that the British comedy star is heading up for Netflix, has added more famous faces to its cast.
Digital Spy is reporting that comedians Roisin Conaty (who proved her acting chops in GameFace) and Joe Wilkinson (Him & Her) have both signed up for roles in After Life, as have actors Ashley Jensen (Extras), Jo Hartley (David Brent: Life On The Road), David Earl (Derek), Mandeep Dhillon (24: Live Another Day), Tony Way (Zapped, Edge Of Tomorrow) and David Bradley (Game Of Thrones, Harry Potter, Doctor Who and many more).
Diane Morgan (Cunk On Britain), Kerry Godliman (Derek), Tom Basden (David Brent: Life On The Road) and comedian Sean McLoughlin (who supported Gervais on his Humanity tour) were confirmed among the cast for After Life in previous announcements.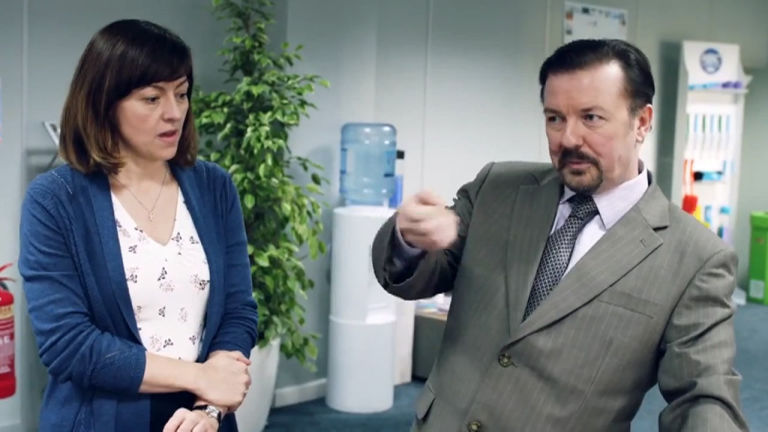 Production started on After Life towards the end of June 2018. Gervais is directing all six 30-minute episodes of this comedy-drama, which he also wrote and executive produced.
Variety sums up the plot of After Life thusly:
"[The] series follows Tony (Gervais), who had a perfect life. But after his wife Lisa suddenly dies, Tony changes. After contemplating taking his own life, he decides instead to live long enough to punish the world by saying and doing whatever he likes from now on. He thinks it's like a Super Power — not caring about himself or anyone else — but it turns out to be tricky when everyone is trying to save the nice guy they used to know."
After Life continues Gervais' healthy relationship with Netflix, which previously saw the streaming service distributing David Brent: Life On The Road and the stand-up special Humanity in numerous territories around the globe. Gervais' 2016 film Special Correspondents was also released through Netflix.
Of course, we'll bring you more news on After Life as we hear it.