Tom Burke, the star of the BBC's new detective drama, Strike, has had a long a varied career up to this point. 
Strike: The Cuckoo's Calling has made quite a stir over the last few days, and certainly given the high-profile return of Victoria a bit of a knock-back, beating its rating by some two million viewers.
While our reviewer, Rob Smedley, didn't see anything exceptional in the first episode, he nonetheless enjoyed it. Personally, we  thought one of the most interesting thing about it was the chemistry of the cast – and it's mix of very familiar and 'where-have-I-seen-them-before?' faces. Not least a super-thin Tara Fitzgerald.
Thus, we thought we'd take a look at the shows cast in more detail. Starting with Cormoran Strike himself, Tom Burke.
Tom's Travels
It's worthy of note that Tom Burke has made his name as an actor as much – if not more – on stage as he has on screen. His work has taken in the Royal Shakespeare Company, as well as appearances at high cache London venues like The Globe, The Old Vic, The Donmar Warehouse, The Almeida and The National.
There's also a pretty good chance you've heard his voice on an advert for Lexus, HTC or Sainsbury's. If Strike's your first experience of his work, though, you probably wouldn't know it – the gritty, street-level patter of Cormoran is not the voice he brings to those gigs.
In terms of TV, Tom made his small screen debut in Dangerfield all the way back in 1999, before appearing alongside a starry cast in the tense thriller State of Play in 2003. He turned up in the cast of bawdy Johnny Depp period flick The Libertine in 2004, and the David Tennant-starring zeitgeist-hitting Casanova in 2005. He then made his way into short-lived family-sitcom-cum-Rik-Mayall-vehicle All About George. There's a reason you don't see that mentioned at length in summaries of the great man's career, if we're honest.
In 2007, he headed up Brit-com I Want Candy alongside Da Vinci's Demons star Tom Riley and, erm… Carmen Electra, and a year later appeared in the controversial UK horror Donkey-Punch. Though the film does have its defendants, a Daily Mail critic infamously described it as the vilest film she'd ever seen – you decide for yourselves, and wasn't alone in finding it distasteful. It's certainly pretty nasty stuff, but maybe has more to it than you'd immediately think.
Luckily, in the same year he also appeared in excellent Nick Moran Movie, Telstar: The Joe Meek story as Geoff Goddard, who collaborated with the temperamental music impresario until they fell out in the mid-60s. It's Burke's highest-rated entry on Rotten Tomatoes, and rightly so.
While Con O'Neill's wonderful turn as Meek steals the show, Burke forms part of a solid British cast (including James Cordon, Ralf Little, and Matthew Baynton) that makes for a very entertaining, bittersweet, story of a great, troubled, British eccentric.
A year later he played Vicomte Desmond alongside Michelle Pfeiffer in Cheri. The film was notable for its reuniting of Pfeiffer with director Stephen Frears in another adaptation of a french novel – a la their success with Dangerous Liaisons. It failed miserably to recreate that success, however.
In 2011 he played Bentley Drummie in BBC's Great Expectations adaptation, and 2012 saw him turn up in fair-to-middling Sean Bean spy thriller Cleanskin and wartime drama-on-ice An Enemy To Die For.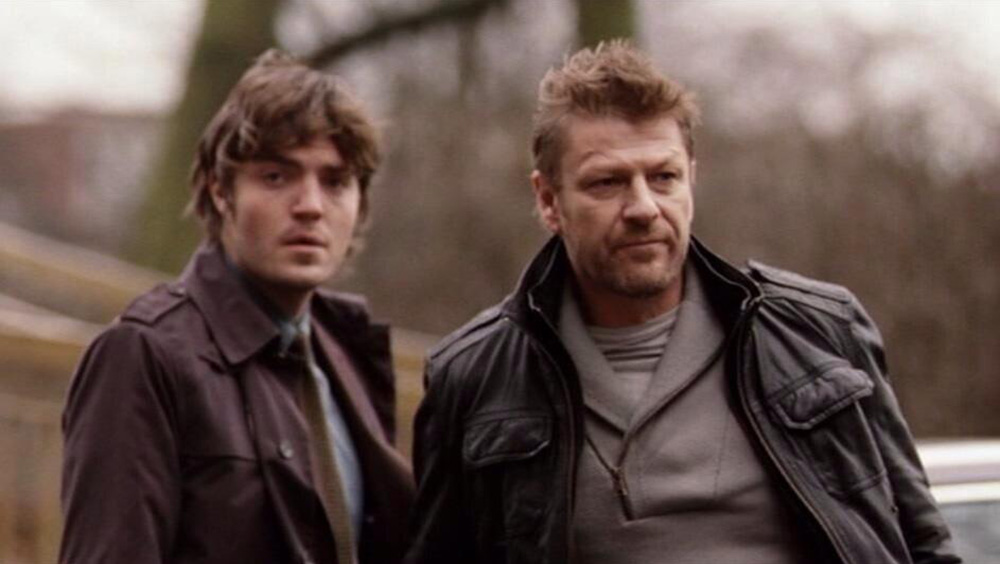 The real headline of that year, though, was his appearance in series 2 of the cult classic Beeb cold-war drama The Hour as Bill Kendall. That's a box set that well worth searching out if you get the chance, not least for its role as proof positive that Ben Wishaw is a top-notch acting talent.
Doing our best to ignore the forgettable Sue Perkins comedy Heading Out, 2013 saw Tom appear as the transgressive murderer Billy in the sparse Only God Forgives. Nicholas Winding Refn's not always appreciated follow up to Drive, in which Ryan Gosling's Julian is set on a path of bloody revenge instigated by Billy's heinous actions, is a brutal, abstract, nihilistic – but, I'd argue, brilliant – affair. Burke's chillingly cold demeanour fits the tone perfectly.
That pretty stellar, though limited, performance was then followed with an appearance in the Ralph Fiennes-directed The Invisible Woman, in which the mercurial Fiennes also stars as Dickens himself. Here, Burke plays George Wharton Robinson, the man who eventually marries of Felicity Jones' Nelly Ternan, former secret mistress of the great writer around which the story is centred.
Burke's next movie role is strange anomaly. He appears in The Hooligan Factory, a spoof of the then-strangely-successful-and-seemingly-ubiquitous British hooligan movies, like The Football Factory. We're doubtful it's on his showreel, to be honest. That it's his last film appearance is, we're sure, purely coincidental.
After a single-episode appearance in the brilliant Utopia's second season opener, Tom's next TV role was as Athos in BBC's The Musketeers alongside Our Girl's Luke Pasqualino, Merlin's Santiago Cabrera and Howard Charles. That ran for 30 episodes before drawing to a close in 2016, at which point he moved on to play Fedya Dolokhov in the BBC's expansive, expensive, adaptation of War & Peace.
That, brings us all the way up to his turn in the Robert Galbraith/J.K. Rowling detective, Cormoran Strike. However, what's next on his docket could be equally interesting, as he is slated to appear in The Souvenir, a BBC/BFI movie directed by Joanna Hogg.
She, you may recall – though, probably not – directed the Tom Hiddleston-starring drama Archipeligo back in 2010. Intruigingly, Souvenir will also star Robert Pattinson and Richard Ayoade, and be executive produced by Martin Scorsese. If you're not interested in that, I'm not sure why not.
Whether we'll see another turn from Burke as Strike, of course, is largely going to be down to Mr. Galbraith. But here's hoping…