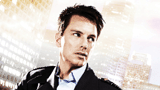 A new full-length trailer for Torchwood: Miracle Day was released by Starz earlier this week.
Miracle Day introduces Mekhi Phifer (ER, Lie To Me) as CIA operative Rex Matheson, Bill Pullman (Independence Day) as convicted child killer Oswald Danes, Alexa Havins as CIA employee Esther Drummond and Arlene Tur as surgeon Dr Vera Juarez, while John Barrowman and Eve Myles return to their roles as Captain Jack Harkness and Gwen Cooper respectively.
> Buy the Series 1-3 DVD boxset on Amazon.
CultBox asked you to tell us what you thought of the trailer. Here's how you voted…
39% think the show looks better than ever
36.6% of you think it seems too Americanised
12.2% of you are still reserving judgement
12.2% of you aren't going to be watching
Watch the new full-length trailer…
> Follow us on Twitter to get the latest Torchwood teasers and reviews first.