Boy Meets Girl, Britain's first transgender sitcom, recently concluded its first season on BBC Two and arrives on DVD this week.
The six-part sitcom stars Rebecca Root in the lead role of Judy, alongside Harry Hepple (Misfits), Denise Welch (Coronation Street) and Janine Duvitski (One Foot in the Grave).
> Buy Boy Meets Girl on DVD on Amazon.
CultBox caught up with Rebecca for a chat about the show…
When you first read a script for Boy Meets Girl, did you know then that it was something you definitely wanted to be involved in?
"Yes, pretty much. You have to be pretty stone hearted not to find great sensitivity and warmth in the writing. Any story, any play or film that has structure, a sense of poignancy and truthfulness in the relationships, you have to be really cold not to want to do something like that. I loved it, the moment I read it, before I even auditioned for the part!
"I knew from the audition that it was a thing that I really wanted to do and that was 2 years ago, almost to the week!"
How much of yourself and your own experiences did you put into the role of Judy?
"Acting is a balance between using your imagination and observational ability and also drawing on your own personal experiences to give that sense of authenticity in the performance.
"We imagine what it would be like to be in that situation and then we remember what it was like if we ever were in a similar situation and we observe what people are like when they are actually in that situation by talking to people. It's a balance between those elements so yes of course, as a trans person myself, I drew a lot from my own experiences."
There are issues within Boy Meets Girl which many in the trans community can relate to. The coming out at the start of a relationship, the discovery of old photos, etc. You must have felt a lot of responsibility to make sure that the story was told accurately?
"Well, my responsibility as an actor is to portray to the best of my ability the truthfulness of the character I'm playing. In terms of responsibility for the portrayal of the trans experience I think that part of that lies with the writers because they're the ones coming up with the story, they're the ones who put these characters in these circumstances so there is a slight shift of responsibility towards the writers there.
"My responsibility and my job as an actor is to simply be as authentic and as truthful as possible. Because I am trans myself I don't have to act that, I just am."
Previous to Boy Meets Girl you mainly had bit parts in shows like Keeping Up Appearances, but how does staring in your own sitcom compare?
"There's absolutely no comparison. As a jobbing actor you do all of these little parts, here and there and nobody recognises you in the street because television is a very crowded industry and there are hundreds of actors. Some of them do pop up here and there a lot and you start to recognise their face even if they're not in a starring role but that was never my experience of the business because I never broke through to the next level prior to transition.
"Even in the last ten years as a female actor I was still a jobbing actor with bit parts here there and everywhere several of which were cut from the final thing anyway! There was nothing at all to compare to this.
"It may sound corny but I've been an actor for twenty five years, chipping away and all of a sudden I've got that lucky break. Even this is a relatively small project. People are recognising me in the street but I also meet people who have no idea I'm in this show!
"It's not EastEnders, we're not getting twenty million viewers but yeah, I've got nothing to compare it with and I'm just enjoying the ride really."
You got the chance to work with people who have such great comedy credentials such as Benidorm's Janine Duvitsky and Denise Welch. What was it like to work alongside those kinds of people?
"They were just amazing and not just because they're lovely, lovely people. One of the great things about being an actor is that you do get to meet a lot of interesting people through the course of your working life. If you do more than one job a year, you're suddenly mixing and working with a whole different range of people and new people often.
"Every four or five months you're meeting new people. One of the lovely things about working with Janine, Denise, Nigel Harriot, etc, on a social level it was fantastic because I've made some great friends. On a professional level I've learned by watching them perform.
"I've learned when I've been acting in a scene with them. Then I've been watching them when I've not been in a scene with them and again I'm thinking what brilliant acting it is. In that respect as an actor, what a gift to work with these people so that I can learn from them and enjoy being around them as well. It's like winning the lottery."
Although it's not been commissioned yet, if a second season does happen, where can you see the storylines going?
"From my own personal perspective I'd love to see Judy and Leo take their relationship to the next level, moving in together maybe. I think that's something that people do isn't it?
"I think that would be a very interesting dynamic to explore. Do they move into someone else's house like a flat share or do they get their own place or do they even move into one of the family homes. All those kinds of situations which are interesting.
"I'd like to see them going on holiday like a camping trip or caravanning, something like that. Just to take them out into a wider community. The thing is that as a trans person if you're known in your own town, people recognise you and you feel safe because it's your home.
"When you travel outside of your own patch you're never quite sure how people are going to take you because you're out of your comfort zone slightly. So I think that would be an interesting thing to explore as well."
You're next going to be seen in The Danish Girl which has reopened the debate about cis actors playing trans roles. Things appear to be changing on the small screen. How long do you think it will be before Hollywood catches up?
"Hollywood's a funny one because of the time it takes to get projects made. Television, although still quite slow is much faster. The soaps are really good at that because they shoot two or three months before transmission.
"With Hollywood and movies I think we're seeing probably the last of the high profile trans roles played by cis actors. I think the next wave will be trans actors playing either trans roles or even a few years further on just playing people, trans or not.
"That's the ultimate goal but we're probably looking at five or six years down the line before that reality happens. I would love to be part of that, oh my goodness."
What kind of television do you enjoy watching?
"I love the slightly offbeat, slightly quirky British comedy. Things like The Detectorists, W1A, Uncle, Rev shows like that.
"I haven't really caught up with a lot of the long form dramas like Breaking Bad but I don't have Netflix.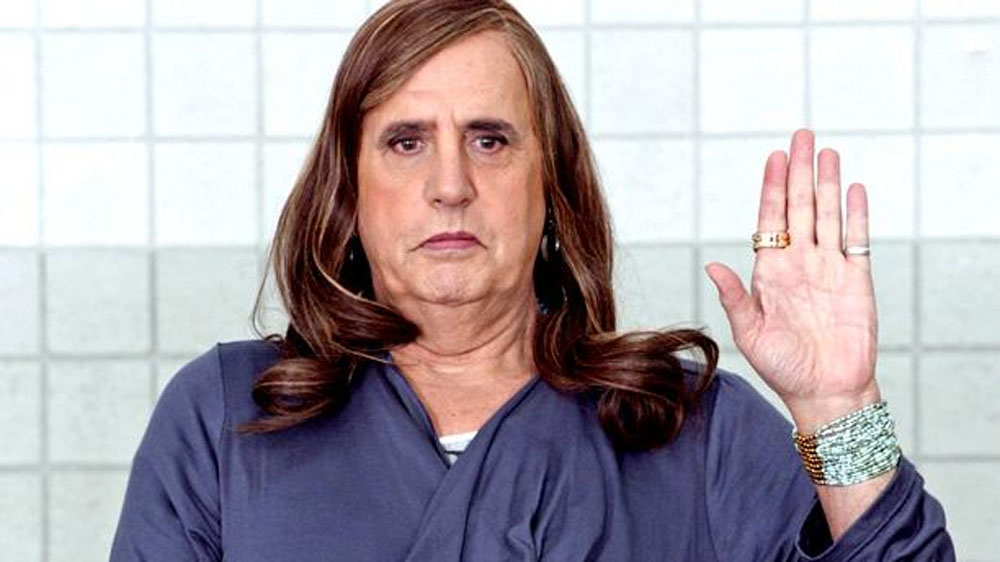 "I do have Amazon Prime and I love Transparent, I really, really love Transparent. I'm dying to get a part in that.
"I also like documentaries and I like watching movies and stuff but I go to the theatre a lot so I tend to balance my entertainment between that and reading."
> Buy Boy Meets Girl on DVD on Amazon.
Did you enjoy Boy Meets Girl? Let us know below…
> Follow Emma Jewkes on Twitter.
> Check out Emma's blog, 'The Avenging Justice League of Zombies and Geeks'.