As well as returning to BBC Three tonight as Steve in the second series of hit comedy Him & Her, Russell Tovey will be seen next year in Series 4 of Being Human and an episode of Sherlock.
CultBox caught up with Russell to find out more about these and his other future projects…
How was your recent trip to LA?
"Amazing, intense! I had a week out there, about 20 meetings. I was walking into rooms thinking that nobody would really have seen any of the work I've done and actually so many of them had seen shows like Being Human, Little Dorrit, History Boys…
"The studios there are trying to format Him & Her at the minute, so a lot of them had seen that. I was sitting there realising how many British shows are actually seen over there, it was very exciting.
"I signed with an agent there last year and this has been my only opportunity to get over. I had a week between jobs so I'm just thinking about the future so that when I go out next time, they know who I am."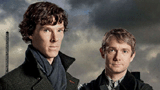 Can you tell us a bit about your guest role in Series 2 of Sherlock?
"Ah, what can I tell you about Sherlock? It's amazing to be a part of it; I'm in the second episode. It's called The Hounds of Baskerville and I play a character called Sir Henry Knight. I get to act with Benedict and Martin which was awesome.
"We did about two and a half weeks of night shoots in Cardiff and I felt like I had jetlag! It's going to be very good.
"I think a lot of people are anticipating it because it's one of the most well-known of Sir Arthur Conan Doyle's stories, so there's quite a lot of pressure on it and hopefully it delivers the goods!"

Has the story been updated with a modern twist?
"Yeah, completely, a completely modern twist. The beauty of Sherlock is that it's completely loyal to the style and tone of the books, but there's this juxtaposition of old and new. That's what is so exiting about the show is that balance and the quirky reinterpretation of it all."

Would you say it's quite a scary episode?
"Yeah, yeah, yeah – big time scary! It's about a hound. Hounds are scary!"

Series 4 of Being Human is filming at the moment. As you've been doing other projects, does that mean you're not in the whole series?
"No, when it comes out people are going to see that it's very spread out and there's a lot more characters in this series.
"Because we lost Aidan in the last series because he got killed – the character, not the actor – a lot more happens in this series, so there's been opportunities to go off and do other things."

So is it more of an ensemble cast in Series 4?
"Absolutely, yeah. Michael Socha, who was Robson Green's son last year, is coming back. Craig Roberts is back as the young vampire, he went off to do the Submarine movie, he's amazing. There's a brand new vampire – Damien Molony plays a character called Hal, he's kinda become the new head vampire.
"There's so many new characters being introduced, it's really exciting. I can't way to see it all fit together!"
"You've still got your loved ones in there and the fans are still going to really enjoy it, but it's the fourth series now and the storyline is going completely crazy, I think people will love it."

Do you have any plans to do any more theatre work in the near future?
"Yeah, there's a play meant to be happening next year, it's all being finalised, so you might see me back in the West End in January/February time. I can't really talk about it now!"

It's a couple of weeks until a certain big birthday, how are you feeling about turning 30?
"I'm terrified! I kinda wish people didn't know so I could still say I'm younger. I don't mind being the age that I'm going to be, I just don't want to celebrate it, I want to disappear. Apparently your 30s are the best years of your life, so fingers crossed on that one!"
> Read the first part of our exclusive interview, in which Russell discusses Series 2 of Him & Her with co-star Sarah Solemani.
Are you looking forward to Series 4 of Being Human? Let us know below…

> Buy the Being Human Series 3 DVD on Amazon.
> Pre-order the Sherlock Series 2 DVD on Amazon.
Watch a clip of Russell in Being Human…