Based on the books by Douglas Adams, Dirk Gently returns next month, following a pilot episode in December 2010.
> Buy the Series 1 DVD on Amazon.
The new three-part series stars Stephen Mangan (Green Wing) as the morally dubious, self-styled Holistic Detective, alongside Darren Boyd (Spy) as Dirk's business partner Richard Macduff, who attempts to rein in Dirk's more tangential decisions, keep them both out of prison and generally restore order to the chaos that Dirk creates.
Written by Misfits creator Howard Overman, Episode 1 airs at 9pm on Monday 5th March on BBC Four.
You've said that you wish you were Dirk Gently. What is it about the character that you enjoy so much?
"Dirk has an almost pathological dedication to the holistic detective business that is hard not to admire. His willingness to place himself and other people's cash on the line knows no limits. And anyone who can remain so active and sharp on a diet of almost exclusively pizza and red wine is alright by me."

How does the dynamic between Dirk and Richard develop in the series?
"The relationship between them is basically the show. Each of the three episodes has a very different feel but the strain of working with such a genius/pain in the arse like Dirk takes its toll on Richard. Ep 3 sees their relationship strained to breaking point."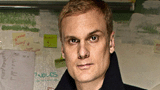 With such an established history on screen with Darren Boyd, how would describe your working relationship?
"Darren has impeccable taste as a performer, not to mention his great skill as an actor. We collaborate very closely, each of us constantly suggesting ideas for scenes to each other.
"Darren gets things very quickly and isn't afraid to say if something I've suggested might not work or how it could be improved and vice versa. Because I trust him so much it frees me up to verbalise any old nonsense that comes into my head knowing he'll exercise some quality control. And that way some interesting and surprising stuff can happen.
"As well as being funny and dramatic, you look to be interesting and original. There are so many detective shows. We both like physical comedy too so, for example, the running gag in the pilot of us both trying to get through doorways at the same time was something we came up with together."

Being Human's Jason Watkins joins the cast for two episodes, what was he like to work with?
"Another top actor. We worked together on Confetti and actually spent some time together trying to develop ideas. When you work with someone as good as Darren or Jason you can just get on with trying to make each scene as good as possible rather than trying to compensate for an actor's limitations."
Do you have a favourite episode in the new series?
"As I said earlier they are all very different and each one has a completely different feel, written as they are by three different writers.
"Episode 1 is very plot driven, lots of stuff happens and all very quickly and frantically, Episode 2 shows a more emotional side of Dirk and for my money Episode 3 is the funniest. Ep 3 has the most Dirk/Richard interaction so I'll pick that one."

What were the highlights of the shoot for you?
"I loved driving the crap out of the Austin Princess. I decided Dirk was an insanely impatient driver so at every opportunity I'd try and put in violent hand-brake turns and wheel-spin acceleration."

How closely do the new episodes stick to Douglas Adams' original stories? Can we expect to see the Electric Monk?
"These episodes are all completely new material. We felt the books as written are almost unfilmable and impossible to do as neat self-contained one hour programmes.
"There are of course references to stuff from the books throughout, Zen Navigation is central to Ep 1 for example, and I hope the Electric Monk will make an appearance one day but prepare for All-New Dirk, as I believe Americans would put it. And the books will always be there for us to enjoy."

Do you hope to return for further episodes of Dirk Gently in the future?
"Absolutely, I'd be deeply disappointed not to do more and having seen the new series, I'd be surprised too. I think Howard and the creative team have done a fantastic job. It's unlike anything else on telly."

Did you see any of the US remake of Free Agents and, if so, what did you think?

"I didn't. I saw a trailer which freaked the living bejesus out of me. Same lines, same Anthony Head but suddenly I'm someone else. Existentially disturbing."

Are you looking forward to the second series of Episodes and when do you start filming? What are your hopes for Sean in Series 2?
"We've actually finished filming the second series already and they are busy editing. It's a cracker, I have to say and much to everyone's relief, there are no scenes of me masturbating this time round."

What else have you got coming up?
"I'm currently filming Rush which the mighty Ron Howard is directing. It's a film about James Hunt and Niki Lauda in 1976 and I play Alistair Caldwell, the McLaren Team Manager.
"Ongoing is Postman Pat the movie in which I play the eponymous hero and later this year I'm in a play at the Royal Court, Birthday by Joe Penhall."
> Buy the Series 1 DVD on Amazon.
Watch a clip from the pilot…
Are you looking forward to the return of Dirk Gently? Let us know below…