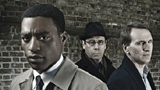 Christopher Eccleston (Doctor Who) plays drug dealer Joseph Bede in The Shadow Line, Hugo Blick's sophisticated and gripping conspiracy thriller which delves into the heart of human morality, coming to BBC Two in May.
When police officers discover the body of a man, shot at close range, they soon realise the victim is Harvey Wratten, head of one of the UK's largest crime organisations. Having served two years of an 18-year sentence for his part in importing £11m worth of heroin into the country, Wratten had only just been released from jail under the very rarely obtained royal pardon.
Assigned to investigate Wratten's death is Detective Inspector Jonah Gabriel (Chiwetel Ejiofor), in his first case since being shot during a botched police operation that left his partner dead. He has amnesia, caused by the bullet still lodged in his brain, which leaves him doubtful of his own moral compass and his colleagues regard him with suspicion. Gabriel has to follow an increasingly complicated line of investigation, all the while wondering whether he can trust anyone, not least, himself.
On the other side of the line is Joseph Bede (Christopher Eccleston), an associate of Wratten's, who has built up a legitimate fruit and flower business during Harvey's time in prison. Now, driven by a profound personal tragedy, Joseph finds himself planning one last deal: a massive drugs operation that he is desperate to see through, so he can retire and step out of the business for ever.
Watching from the shadows is the brilliantly lethal puppet master – Gatehouse (Stephen Rea). He knows how to find people. He knows their secrets and he'll find them when they are at their most vulnerable. As Gabriel begins to unravel the threads around Wratten's organisation, the web of intrigue becomes more complex – and the line that divides the players becomes increasingly blurred.
What were your first reactions when you read the scripts?
"That it was excellent and that I wanted to be part of it."
How would you describe the drama?
"I would say that it is a genre piece, a thriller – a psychological thriller, a meditation on good and bad, a meditation on morality."
Can you describe your character and his moral dilemma?
"Joseph Bede is a devoted husband. He is an accountant, who trained originally in insurance, and because of events in the drama he is pushed forward to lead an operation of drug smuggling. What he is trying to do is to keep himself alive materially because of his wife's illness, and at the same time keep himself alive spiritually – and, of course, the two things are not mutually complimentary. So he wades into a very grey moral area."
Bede and Gabriel work almost in parallel on the same investigation but never meet…
"I think they are very different people, and I will be honest I did not study Chiwetel's character (Gabriel) as I studied my own. They work on different sides of the law for a start – I would say they are very different men. One is more introverted perhaps, Bede, because of his work. But, of course, we don't know what Chiwetel's character was like before the bullet in the brain; and indeed he doesn't know what he was like, that is part of the drama.
"We didn't talk about the job, I think we were aware that we were carrying two very different storylines, he wasn't aware of what I was doing and I wasn't aware of what he was doing."
Were you surprised when first reading the scripts?
"I was puzzled at first, it takes two or three reads. Drama scripts are not really meant to be read, drama scripts are meant to be broadcast and watched with all the visual clues and information that one gets from television and film. It's very complex, it is like a Swiss watch really – the complexity and the way that things interlock, plots parallel each other. I was very, very intrigued."
How would you describe working with Hugo?
"Well I would stop short at the word "genius" because knowing Hugo as I do I don't think he would want anyone calling him a genius! He is very, very talented to have written these scripts and to direct them in the way he has done with the attention to detail. What's definite is that the atmosphere on set was as good as I have known amongst cast and crew and that came down to Hugo's leadership, which was impeccable, light and funny. What you want from a director is: firstly to know exactly what they want; and secondly you want that to be of good taste – and that is true he's got great taste and he leads well. It was a great experience."
Did Hugo give a back story, or does your character start from the page?
"No, there is a modesty to Hugo which is why I think actors and crew work so well for him. He doesn't presume that he knows everything and he allows room for the actors' imagination and the crew's imagination otherwise there is no point in us turning up really. So there are intuitions that an actor can have about a character, and indeed a cameraman can have about how to shoot the scene, which Hugo gives room for.
"He does an interesting thing in that he speaks about the script as though it was written by somebody else, which I think is quite interesting. When he is the director on the floor he has the director's head on and he sometimes says: "I can't remember why I wrote that." It's all very collaborative."
Had you seen any of his other work?
"Yeah, I watched Marian And Geoff and I watched Sensitive Skin before accepting the job. I liked them very much."
The Shadow Line feels quite different to those?
"Very different, that's what I was intrigued by, and I completely understand it. They can't nail Hugo down to belonging to any particular area, which I think is very acute of him."
It's an incredible cast – had you worked with any of the other actors before?
"I had worked with Lesley Sharp before, who plays my wife, we worked together on Second Coming. I was in great company and have seen some fantastic performances emerge during the course of the shoot."
Were you surprised by any of them?
"No, I knew they were all quality, actors but sometimes actors will do things in front of your eyes that will take your breath away and that happened a lot – with Malcolm Storry in particular, and Stephen Rea."
When you read the scripts and found out who was cast were you surprised?
"No, because I know that very well written scripts in drama in this day and age are very thin on the ground. And I know when actors see them they jump on them, because the bottom line is no matter how good an actor is, if you haven't got the script you are not going to be very good. This was an easy job for the actors because the scripts were so well written."
Can you compare The Shadow Line to anything else?
"I can't compare it to anything else and it is difficult when you have been so closely involved in something to actually say what it is. I think the most important thing about it is that it credits its intended audience with great intelligence, it does not offer simplistic plot twists, and it doesn't offer simplistic takes on human psychology. It has taken a world entirely of its own. It is going to be very stylish and intelligent, and I think that's quite rare."
> Follow us on Twitter to get the latest The Shadow Line teasers and reviews first.