EastEnders actress Lacey Turner returns as East London girl Molly Dawes, now a soldier in the Royal Army Medical Corps, next month in BBC One's army drama, Our Girl.
Written by Tony Grounds, the five-part series follows last year's one-off single drama, which attracted a consolidated audience of 6.3 milllion.
> Order Series 1 on DVD on Amazon.
New cast members include Misfits actor Iwan Rheon as Smurf, a face from Molly's past that she'd rather forget, and Ben Aldridge (Lark Rise to Candleford) as Captain James.
Here Lacey chats about what's coming up in the new series…
How did you feel about the success of the single and the series commission?
"I can't believe how successful the last one was. It was really amazing for us because we were so lucky to be able to use real soldiers, to film at Pirbright and let us use them as background. To go from something so small, which was really important to us, to be given a five-part series is just amazing."
What is it about Molly that made you want to return to the role?
"I love Molly. She's feisty, she's disobedient and she's passionate which I think is what draws me to her. She has a passion to belong and she wants to do better and help. I think maybe in her life she hasn't really been given the opportunity. So to join the army she's got the perfect opportunity to become part of a team and a family, to achieve something and feel like she belongs somewhere."
How do you think Molly's changed since we first met her?
"Molly's changed quite a lot really from the beginning. She's grown up. She's gone through all her training and she's really matured as a person. It's nice because all the qualities that we love about her are still there – her disobedience, her feistiness, her fight and her passion – but she's just a bit more grown up."
Is there a new love interest on the horizon for Molly?
"There's a love triangle! It's quite nice because the two boys are so different. You've got Captain James who is a much higher rank and then there's her friend Smurf, who's also a Private. You would never think that Captain James would ever look at someone like Molly and that's what's nice because Molly doesn't feel worthy of someone like that.
"And then you've got the relationship between Molly and Smurf which is so lovely. They're the best of friends and they've got good banter. It's a love/hate relationship but who knows, it could turn into something else."
Molly is sent right to the front line during her deployment. Is she put at risk at any point?
"Throughout the whole series she's in danger really. Anyone who's on the front line is in danger. The people who do this for real are so amazingly brave. I jump when a gun goes off and you can't even imagine what it's like to have bullets flying past your ears.
"She puts herself in danger which is just mad but it's her passion and it's all to do with her disobedience. If someone says don't do something she goes and does it. She puts herself in danger and manages to survive many times."
What does Molly do to earn the trust and respect of Two Section?
"When she first meets Two Section, Molly's not very welcomed into the group. They're a team who have been working together for six months and they spend all day, every day with each other so I suppose you have to earn your way in and that's what she tries to do. To be fair, she wins them over quite quickly with her witty comments and mischievous behaviour."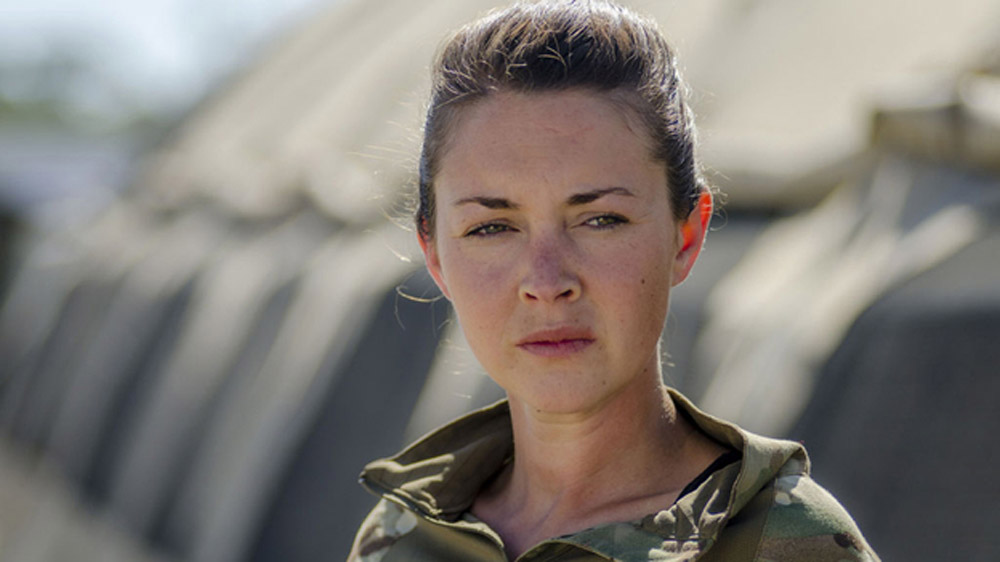 How important do the platoon become to her in the absence of her family?
"Two Section are everything to Molly. They become her family. She's away from home and I think it's something she's never really had before. Although she's got quite a big family, it's quite a difficult family.
"They find it hard to communicate and I think she's always felt a little bit separated from it. To be part of one big family and a team and to have trust and banter is massively important to her."
This time we see Molly put her practice into action for real when she's deployed to Afghanistan – how much more training have you had to do?
"Just training yourself for the heat was enough! You just don't realise how hot it is. We filmed in South Africa and there where points when it was around 46 degrees. You're hot enough in the kit in this country let alone a hot country. We were running up mountains and down mountains and through rivers. It was fun, I loved it."
What's been the biggest challenge in the role?
"It's been tough as I'm in pretty much every scene, so the whole thing has been a challenge – but it's an exciting one. For me, it's just about getting it right. It matters to me that it's as close to real as possible because these people do this for real and you want to try to do them as much justice as you can. I hope that we have."
Watch the trailer…
Are you looking forward to the return of Our Girl? Let us know below…