Doctor Who star Christopher Eccleston plays grandfather Maurice in The A Word, BBC One's new drama about a family whose youngest son is diagnosed with autism.
Adapted by Occupation writer Peter Bowker from the Israeli series by Prisoners of War creator Keren Margalit, the new six-part series is a funny and thought-provoking series about parenthood and childhood and what it's like to have a child who doesn't fit the mould.
> Like The A Word on Facebook.
The A Word is airing at 9pm on Tuesday nights on BBC One. Here Christopher Eccleston chats about the show…
What first drew you to the script for The A Word, and to the role of Maurice?
"When I first read my first reading of The A Word, obviously I liked the scale of the story. I think the first scene that appealed to me, from an acting point of view, to play, was when Maurice sings the Gordon Lightfoot song, 'If You Could Read My Mind'.
"The lyrics are very poignant for the man, the character, at that point in his life, and it's also a song that I've always loved. I thought it was very clever of Pete to give it to a man who was not going to sing it particularly well, and to give it to a character who, in many ways, is a stranger to his own heart. I thought it was very romantic, moving, almost tragicomic scene which is almost the tone for the whole series.
"There are moments of great pain and great drama, and also moments of great humanity – well, drama is humanity – and great moments of comedy as well. That's one of the other things that drew me to the script of The A Word – it is not just one thing, it's not just one tone. It has a variety of tone and tries to span exactly how it feels to be a member of a large and dysfunctional family."
Can you tell us a little bit about your character?
"Maurice is 56. He is recently widowed, in the last two years – lost his much-loved wife, his one and only partner through life, with whom he's had two children – and he's definitely still in the process of grieving. It's not overt, it's not something that we deal with in a dramatic way, but it's present in him.
"He's a little bit lost in life, he's trying to find a role, and he probably makes things more difficult by giving up his job at the brewery for his son, his returning prodigal son.
"Maurice is quite alpha, he feels quite spare, he's quite interfering, he can be extraordinarily insensitive to other people's feelings, but he's also enormously well-intentioned. He's a passionate fell runner, so he's quite fit for his age, and he's overly dominant, and he has a journey – he has to learn his new place in the world during the course of this series."
What challenges has playing Maurice brought to you as an actor?
"I think the challenge of playing Maurice, one of the things, is not to soften him, because he can be really quite hurtful, unintentionally. I think the temptation, as an actor, is to apologise for that or to sweeten it. I've tried not to do that, but I've also tried to locate where that lack of insight into other people's feelings comes from.
"I think there's a comedic element to the character – I'm not somebody who's been in a great deal of comedy dramas, I tend to do more intense drama, so that's been a challenge for me. It's very interesting, there are clearly some comic lines in this script, but if you play them as comedy, they're not funny.
"I sound like Alan Alda now, in that Woody Allen film: if it bends it's funny; if it breaks, it's not funny. Eccleston expounds on comedic acting. I've no idea how to do it, so that's been one of the challenges."
How have you found working with Max Vento, who plays Joe?
"Great. My heart's gone out to him, because it's such a challenge for anybody – for any actor of any age – to play somebody on the autistic spectrum. He's a young boy and it's a massive, overwhelming thing to be involved in a production like this, and he's done a fantastic job. It's been a pleasure to work with him.
Maurice starts seeing his singing teacher, Louise, played by Pooky Quesnel. What has been your favourite scene with Pooky?
"All of my scenes with Pooky Quesnel have been my favourites. Pooky and I have known each other since 1980. We were in a play together, when we were students, called Lock Up Your Daughters, before either of us were professional actors.
"It was an amazing coincidence when they told me that Pooky was going to be playing this role, because we have a very strong friendship and she's an actor that I particularly admire. Also, there's a great deal of trust between us. So all the scenes, really. I liked singing 'If You Could Read My Mind' to her. The storyline between myself and Pooky Quesnel is a real gift from Pete Bowker."
How important is the Lake District setting to the story?
"It's essential. It gives us a sense of place, it gives us a sense of scale and natural beauty, it gets us out of the traditional urban setting that we're so familiar with, with drama. Scale, and an opportunity to introduce dramatic elements as the story develops. So it's been integral, obviously."
What have been the challenges of filming in the Lakes so far?
"I've shot up here before. You get sudden changes in weather. The DOP, the cameraman, will tell you that they get sudden changes in light which can be an issue for continuity. You get micro-climates, you get extreme weather, as we all know, Cumbria got, just before Christmas.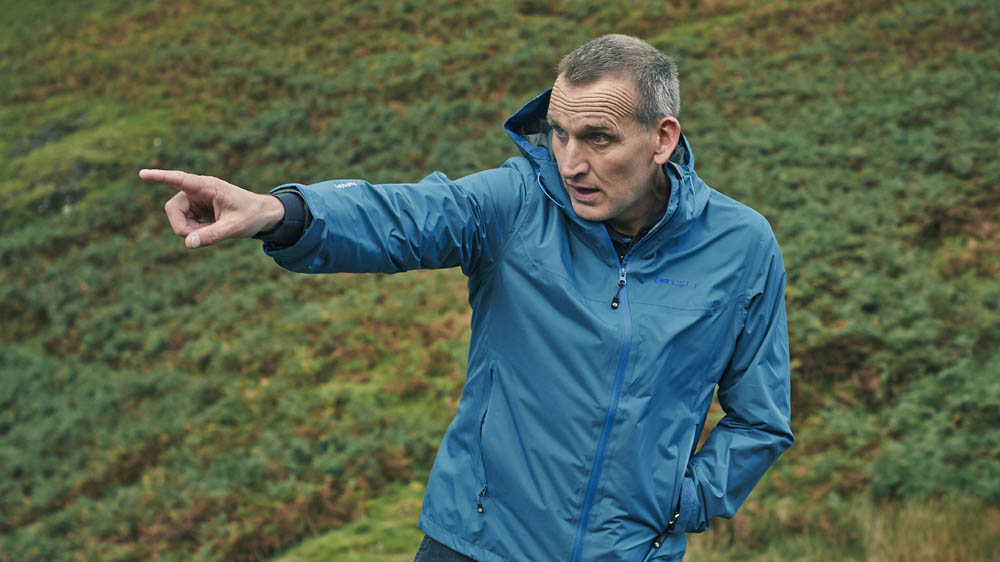 "We had a week at the gastro pub location, which was very cold and very challenging for the cast and crew. We've had continuity issues because we've had snow when we didn't want snow, we've had rain when we didn't have rain. You're more vulnerable to that when you're in a rural setting. So plenty of challenges, but all positive because it all informs the texture of the drama and it bonds the crew."
You've collaborated with writer, Peter Bowker, a lot. What is it about his writing that you particularly enjoy?
"This is the third thing I've done with Pete. I did The King and Us, which was on BBC Three or BBC Four, in about 2000, and then I did Flesh and Blood, which was on BBC Two, in 2001.
"I think Flesh and Blood, Marvellous and The A Word are very personal to Pete, I think there's a connection between the three in their themes. I just like his writing, really. He's a brave writer, he writes a great deal about humiliation and embarrassment and awkwardness, and he gives it a lightness of touch and a humour. He's interested in the normal, everyday minutiae of family life, and the difficulty of being a human being and communication."
A central theme in The A Word is communication. What would you hope the drama communicates to audiences, both in the UK and internationally?
"I would hope that the drama, The A Word, communicates enjoyment. I hope it communicates them to tune in next week and sit there for all six episodes. I think the drama's about a number of things: a family coming to terms with a child on the autistic spectrum; there's a period of denial, there's a period of anger, there's a period of acceptance.
"I think Joe's challenges create challenges for all the individuals that surround him. I think it changes all the individuals around him, the way they look at the world, the way they look at themselves, and hopefully the audience will see themselves in any number of the characters."
Why do you think viewers will respond to The A Word?

"I hope the viewers like it because we've put a huge amount of effort into it. There are some very, very skilled technicians, some very skilled actors, apart from me, I had to come along just to drag it all down to my level. I think it's a nice blend of comedy and drama. I think it reflects how we all get through life."