Characters from the festive Netflix special can be seen on a trail through the city. 
With the festive musical short film Robin Robin already available to stream on Netflix, Aardman have joined forces with the street art festival Upfest; murals of characters from the story form a trail through the company's home city of Bristol.
Featuring eleven of the film's stars, the trail leads to a final large mural in North Street.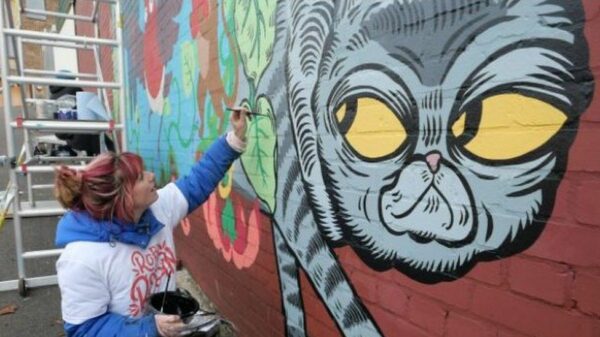 Artist Alex Lucas has spent several weeks working on her Robin Robin mural trail through the streets of Bedminster, with Aardman saying she was the "number one artist on their wish list" to create her interpretation of the new film's characters.
Robin Robin
The latest Aardman short, a Christmas musical, landed on Netflix on November 24th. Directed by Dan Ojari and Mikey Please, it stars Bronte Carmichael (Christopher Robin), Adeel Akhtar (Enola Holmes), Gillian Anderson and Richard E. Grant.
Here's the synopsis:
When her egg fortuitously rolls into a rubbish dump, Robin is raised by a loving family of burglar mice. As she grows up, her differences become more apparent. Robin sets off on the heist to end all heists to prove to her family that she can be a really good mouse – but ends up discovering who she really is.
Robin Robin looks like a perfect stop-motion festive treat – and it's certainly on the watchlist this year at CultBox Towers.
Coverage of Upfest, courtesy of the BBC.