Fan of Buffy the Vampire Slayer and/or Firefly? Been meaning to catch up on these cult classics but can't find them online? Well then this is the news story for you!
New special edition anniversary box sets of both shows (sadly no Angel *sob*) are coming in September, featuring all new bonus material including a cast roundtable with Joss Whedon, Nathan Fillion, Alan Tudyk and Ron Glass, audio commentary on select episodes, behind-the-scenes featurettes, deleted scenes, a gag reel, audition tapes and more. A Kareoke sing-a-long for Once More With Feeling will feature on the Buffy set.
In case this past weekend is making you pause, here are the product descriptions to go along with the dual releases:
"Hang on for the ride of your life as you launch your imagination into a spectacular world of sci-fi action and rugged adventure from the genius mind of creator Joss Whedon! Set 500 years in the future in the aftermath of a universal civil war, Firefly follows Captain Malcolm Reynolds and his renegade crew of the transport ship Serenity – a fiercely loyal team ready to tackle any job, legal or not. But when they unwittingly take on a mysterious pair of travelers, they find themselves constantly on the run, desperate to evade Alliance authorities, flesh-eating Reavers and other hostile dangers in the darkest corners of space."
"The teen years can be brutal. Especially when you're Buffy Summers (Sarah Michelle Gellar) — a Sunnydale High School student destined to slay supernatural, blood-sucking baddies instead of hanging out at the mall. Over the seven seasons of this thrilling, witty show, Buffy struggles to maintain allies in the fight against evil, while also engaging in on-off romances with a moody vampire (David Boreanaz) or two (James Marsters). Now you can own this 39-disc set containing all 144 episodes of one of the smartest, funniest, most action-packed series ever to slay on the small screen — also starring Alyson Hannigan, Anthony Head and Nicholas Brendon."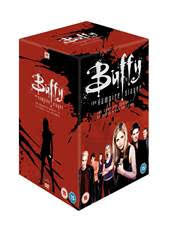 The 15th anniversary Firefly DVD and Blu-Ray will be released on September 11, with Buffy's 20th anniversary set following on September 18.