In an interview published in Doctor Who Magazine 569, John Bishop spoke to writer Emily Cook of his experiences working on the set of Doctor Who with Jodie Whittaker and Mandip Gill.
Bishop was interviewed from his flat in Cardiff where he stays when filming. He was last known to be in Cardiff on 19 August when he performed a warm-up for his comedy tour Right Here, Right Now at the Glee Club.
"I did a gig the other night in Cardiff," John Bishop told DWM. "It was a little warm-up gig and some of the Doctor Who crew and cast came to it."
Bishop had come from a dubbing session for an upcoming episode of Doctor Who just before the magazine interview.
"We did a lot of stuff for social this afternoon too," he explained, referring to social media content to be released as publicity for the series.
As his time filming on Doctor Who soon comes to a close, he took time to praise his co-stars Jodie Whittaker and Mandip Gill.
"It's all about the Doctor," he laughed. "No, they've been great to work with. So welcoming and really supportive, particularly to someone like me who's not done a run on a series like this before. I know everyone knows it, but as everyone says, Jodie is phenomenal. The way she carries this show – the amount of responsibility that she wears so lightly on her shoulders – is staggering. The run's coming to an end soon and we were all talking earlier about how weird it will be not seeing each other every week."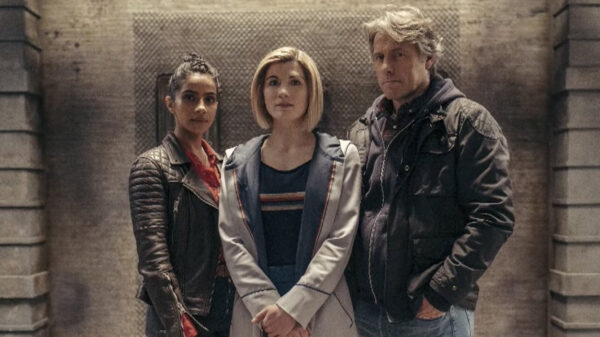 Among the exclusive photos of John Bishop published in Doctor Who Magazine are one of Dan Lewis standing inside the TARDIS looking up in awe. There is also an outdoor scene with John Bishop as Dan with Mandip Gill as Yaz in a a black blouse with a floral print and a brown, furry coat – likely taken during filming on the Welsh coast as water can be seen in the background. Bishop is also on the cover of the magazine in a seated Dan Lewis character pose photographed by James Pardon.
Doctor Who Magazine 570 will have an exclusive "Inside Series 13" feature in its issue which will hit newsstands on 14 October.
John Bishop is currently busy with his stand-up tour Right Here, Right Now which will continue into May 2022.
Doctor Who Magazine 569 is available online now and at newsstands on 16 September.