BBC Three's comedy hit is back for a further six episode run. 
Back in June, we were pleased to report that Starstruck, the Rose Matafeo led sitcom, had scored a recommission.
Previously best known for her stand-up and panel show appearances, Matafeo proved an engaging lead in the mis-matched romantic comedy and the script made room for comic asides and award situations as Jessie stumbled through her life. As well as hitting almost 5 million iPlayer views. Starstruck enjoyed a warm reception from critics and viewers both here and internationally.
The story centres on Jessie's discovery that her drunken one-night stand is actually an incredibly famous movie star. Series 2 will continue the story as she juggles two dead-end jobs and the complications of her new relationship with Tom (Nikesh Patel).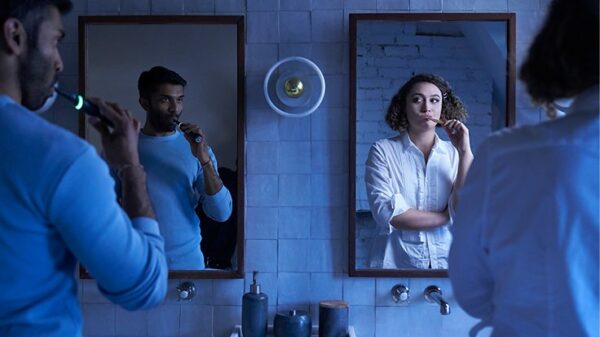 In this first snap from the new run, it's looks as if all is not well between Jessie and Tom.
Returning cast
As well as Matafeo and Patel, Minnie Driver returns as Tom's agent (building on her hilarious appearance in series 1). Russell Tovey (Years and Years, Him & Her) will join the cast in an as yet undisclosed role.
As well as a breakout BBC Three hit, the show airs internationally on HBO Max, ABC Australia and TVNZ.
Starstruck series 2 will provide a further six 30-minute episodes. The show is co-written by Rose Matafeo, Alice Snedden and Nic Sampson, produced by Avalon for BBC Three and HBO Max. Executive Producers are Rose Matafeo, Jon Thoday, Richard Allen-Turner, Rob Aslett and Toby Welch. Claire McCarthy is series producer, and Jamie Jay Johnson (Dead Pixels, Fresh Meat) is series director.
While there's no suggestion of an airdate as yet, in the UK you can still catch up with series 1 on BBC iPlayer.