The comedy caper follows a gang of hopeless London crooks. 
Landing in early 2022, The Curse is set in the early 1980s. It follows a group of small-time London criminals who, through their own poor judgement, become embroiled in one of history's biggest gold heists.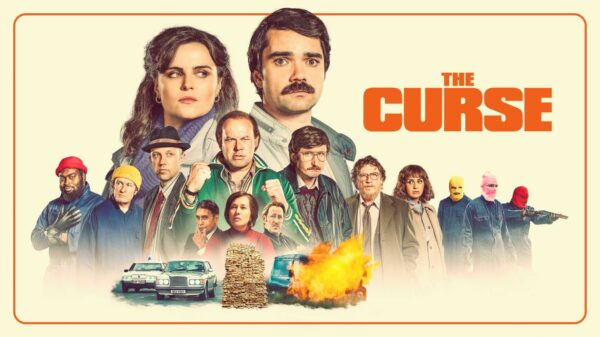 This group of hapless criminals are normal working-class men, who dabble in low-level crime to make ends meet. However, they bite off more than they can chew with the heist and subsequently are stuck with an impossible task; they need to rid themselves of the loot before they get nicked or even worse, end up dead.
A tale of friendship, we're told that the series is a story of trust, greed, ambition, class and inequality. Can a group of childhood friends stick together when they find their lives transformed overnight? And what are the sacrifices that they must make to survive…and ultimately, is all the money in the world ever really worth it?
The Gang
The gang are made up of Albert Fantoni (Allan Mustafa), Sidney Wilson (Steve Stamp), Phil 'The Captain' Pocket (Hugo Chegwin) and Big Mick Neville (Tom Davis). In addition, the cast includes Emer Kenny as Natasha, who narrates the tale, as well as Peter Ferninando, Ambreen Razia, Geoff Bell and Michael Smiley.
The Curse is written by Tom Davis and James De Frond (Murder in Successville, King Gary), along with Steve Stamp, Allan Mustafa, Hugo Chegwin. Comprised of six 30-minute episode, the show is produced by Shiny Button.
The other The Curse
It should be pointed out that the Channel 4 show is not the only one of that title in production. There's an upcoming Emma Stone-fronted comedy series, commissioned by Showtime, which carries the same name.
Her show has quite a different story though; Showtime's The Curse is a genre-bending scripted comedy that explores how an alleged curse disturbs the relationship of a newly married couple as they try to conceive a child while co-starring on their problematic new reality TV show.
To be honest, we're probably up for watching both here at CultBox Towers.
When we hear more, of course, we'll keep you posted.