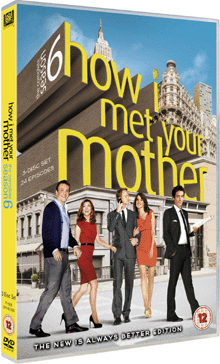 Six years in and Ted Mosby (Josh Radnor) still hasn't met his future wife, but that's okay; How I Met Your Mother is all about the journey, and Season 6 is the best part of it so far.
When it first started it was easy to think of HIMYM as 'Friends with flashbacks', but over time it's found it's own groove.
Now confident enough in itself and its audience to flashback/flashforward more than a Lost double-bill, as well as self-reference its own history (Ted's infamous red cowboy boots from Season 3 even make a comeback and their own origin tale), long-time fans will find much to like here. Especially as we get to see even more of Robin's embarrassing Canadian pop career, this time in the innuendo-strewn kid's show 'Space Teens'.
But for all its in-jokes and laugh-tracks, HIMYM isn't afraid to show it's a comedy with depth from time to time. Such is the case with the outstanding Bad News, which threads a mysterious countdown from 50 into the background scenery throughout the episode, leading to an emotional gut-punch right at zero as Marshall (Jason Segel) learns of his father's death.
It's not just a character-altering moment, but one that anchors the theme of fathers and fatherhood running throughout the season; Marshall dealing with losing his dad while also the stresses of trying to become a parent himself, and Barney (Neil Patrick Harris) finally tracking down and meeting his long-lost father, 3rd Rock from the Sun star and Bigfoot-adopter John Lithgow.
Barney and his father's relationship is an awkward and sad one, but which contains a cocktail of pathos and humour, so that it never becomes the depressing reunion it could be. Better yet, as it plays out it gives the excellent Neil Patrick Harris a chance to add greater depth to Barney, showing us more to the man than suits, scotch and sordid activities.
With it's numerous hints toward the future, Season 6 feels like a season that has an actual overall plot and a sense of direction and momentum – of the characters becoming more developed and getting on with their lives, whether it's Marshall and Lily creating a family, or Ted and Robin trying to get a fix on their respective careers.
HIMYM is working toward its eponymous goal and however long it takes it's nice to see it's not just freewheeling until it gets there. There's a real sense Ted's getting close to meeting the future mother of his children. Let's hope he gets to it soon. His poor kids have been sat in the same place listening to him for six years now…

Extras: It's all standard stuff, but of good quality. The deleted scenes are numerous and actually feel like deleted scenes rather than just cutting room floor sweepings. There are cast commentaries for selected episodes, the best of which features John Lithgow and Neil Patrick Harris having a good natter with one another, along with a Making of… for the episode Subway Wars and a cheeky gag reel. For the absent-minded or casual fan, there's also What We Know About Your Mother which neatly summarises the past six season's clues about the future Mrs. Mosby.

Released on DVD on Monday 31st October 2011 by 20th Century Fox Home Entertainment.
Watch a selection of the best bits from Seasons 1-6…
What did you think of Season 6? Let us know below…