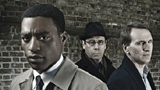 From the discovery of Harvey Wratten's bullet-raddled body at the outset to the explosive climax of the last episode, when DI Jonah Gabriel finally discovers the truth he's been seeking, BBC Two's recent The Shadow Line is a serial sodden with blood: seven hours of claret-splattered, frequently flamboyant, occasionally preposterous and completely compulsive television.
Written, produced, and directed – most likely bled, sweated and cried out as well – by Hugo Blick, the series follows Gabriel (Chiwetel Ejiofor) as he searches for both the killer of Wratten and the memories dislodged from his mind by the same bullet that blew his partner away in a sting went wrong. Assisted by DS Lia Honey (Kierston Wareing) and hindered by just about everyone else in the police force – 'You try and find the line on something like this, all it's going to do is fill up your arteries so thick you'll think you're a fucking werewolf' –Gabriel has to establish whether he himself is complicit or corrupt before he can track down Wratten's murderer – and he isn't the only one looking.
Joseph Bede (Christopher Eccleston) – a kindly, sensible, level-headed seller of flowers who has unfathomably found himself in the higher echelons of a continental, multi-million pound narcotics business – is also looking. Bede was Wratten's right-hand man, and his death has come at the worst possible time for the affable florist: he was getting out of organised crime for good to care for his wife, who is suffering from Alzheimer's. Now, in the aftermath of the boss's death, he must track down the killer and set up a final drugs deal to smooth over his exit from the syndicate and leave things in place for Wratten's eccentrically psychotic nephew, Jay (Rafe Spall) to take over.
But while Gabriel and Bede do their best to track down the murderer, somebody else is going about his business in the shadows, searching not for the killer but for Wratten's missing moneyman Glickman – an unremarkable man in a fedora and a tightly-buckled raincoat named Gatehouse (Steven Rea). 'He was quite sweet,' one of Glickman's in-laws says, 'sort of old-fashioned.' Shortly afterwards, she's screaming in horror at the realisation that this sweet, old-fashioned gentleman has taken her newborn baby away. Gatehouse, in his quiet, unassuming way, is an ageing and brutal Iago, a Machiavellian murderer who will stop at nothing to track down Glickman; and in a serial full of watchable, interesting and often downright creepy characters, Gatehouse is the one that you'll keep coming back to.
Sometimes, though, even Gatehouse's poetic musings are a little over-the-top. 'I think a little poetry always helps lift the soul,' Superintendent Patterson (Richard Lintern) remarks in the first episode, but sometimes, it can make the spirits sink – and the language of The Shadow Line is certainly extravagant. At times, the actors are almost declaiming the lines as if stood upstage at the Old Vic, booming out soliloquies that, in real life, would have been muttered and pockmarked with profanity.
However, it's this balance between the at times baroque language and the grim hyperrealism of the violence that makes the serial so unique. This bleak, black-hearted amorality tale has no peers in the crime fiction genre, home-grown or imported – and in a year that has already seen acclaimed and highly-successful returns for Spiral and Luther, that's saying something.
And what is the truth that Gabriel discovers? It's not a happy one. Upon finally meeting Gatehouse, he realises that everyone – no matter how important or irrelevant, senior or junior, everybody or nobody – can be bought for the right price, and that good and evil are merely two spokes on the same wheel: a wheel that will go on turning no matter what. Gabriel wants to stop it, to draw a line in the shadows between right and wrong. Gatehouse merely wants to oil the wheel, keep it spinning; and in a contest like that, there can be only one winner.
It's not a happy ending, but then happiness was never on the agenda, anyway – and Hugo Blick hasn't ruled out the possibility of a return for Gatehouse in a future sequel. Whether such a thing materialises remains to be seen, but the idea of a serial matching the quality of The Shadow Line is enough to warm the blood.

Released on DVD and Blu-ray on Monday 4th July 2011 by 2entertain.