If you are to believe Jimmy McGovern's version of the first British colony in Australia, it truly is a miracle that a modern civilisation emerged from these unpromising beginnings given the amount of time the commanding soldiers spent with nothing on their minds but where their next sexual encounter was going to come from.
It's a wonder they didn't all die of starvation mid-coitus. Last night's episode was like Sex and the City with added muskets.
The work shy Major Ross was at the centre of events again, charming his way into the affections of McVitie with Bon mots such as 'I am a soldier, naked and dumb is how I like my women'. That kind of talk doesn't even work on The Only Way Is Essex.
Soon he is being aroused by being told that when his 'whore' isn't hating him she is pitying him. London can't send that party boat full of buxom women soon enough. How are these men expected to survive let alone forge a new society, without being visited at least three times a week? Even the over worked convicts are at it, as Elizabeth reveals she is pregnant – in the olden days they didn't have pregnancy tests, instead a woman knew she was pregnant if she extravagantly half-collapsed twice in the space of a few seconds.
The question is who is the father? Luckily it can't be the put-upon, snivelling Private Buckley because to fall pregnant a woman 'needs a man and not a shirt button'. Ouch.
Fortunately, elsewhere things began to get a bit more interesting. The emotional trauma and loneliness of colony life was explored through the aforementioned Buckley, who is without a woman because 'he is a very ugly, both inside and out'. To add insult to injury he is soundly beaten and made to cry by his superior officer. Not a good day and he doesn't even have a native woman to comfort him.
We finally had acknowledgement of the presence of the aboriginal population. They have cut the fishing nets set by the colonists. There hasn't yet been direct contact, but the native population are clearly not happy.
We also started to get a sense of character backstory. We discovered that Freeman was not an honourable or 'dashing highwaymen', but rather a common pickpocket. Crafty, a ducker and a diver but you know not a murderer.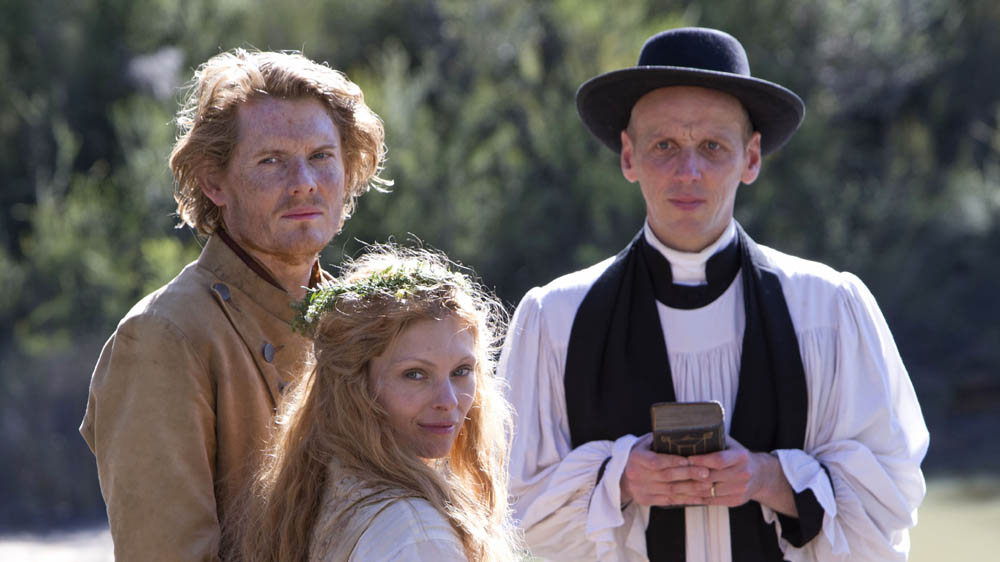 There were intimations of rebellion – 'We are governed because we chose to be governed' – whilst there was a good exchange between the vicar and the Governor which betrayed an antagonism between the church and the state that may become a central theme. The vicar wants the convicts to build a church during their free time, but the Governor reprimands him: 'There is no spiritual strength and physical strength, there is just strength'.
Let's hope that next week there is less about Major Ross' groin and more about the role of religion, the relationship between the soldiers and the convicts and the interplay with the aboriginal population.
Aired at 9pm on Thursday 19 March 2015 on BBC Two.
> Like Banished on Facebook for the latest news.
What did you think of the episode? Let us know below…