To many, now of a certain age, the Paul Daniels Magic Set was the Holy Grail of Christmas and birthday gifts.
You opened that garish box and were confronted with a mass of magic plastic – wands, cups, cards, balls to be palmed and pocketed – and the knowledge that you had the power to entertain the grandparents for ten minutes on a Sunday. It was all tremendously exciting.
And entirely useless without reading the provided instruction book.
That's one of the main themes of Strange and Norrell: the power of books; the control of magical knowledge as much on paper as in principle. Just by talking/tweeting about it now we're part of the book and everything sprung from it.
It was a story which – thanks, Segundus! – began with instructional books of spells. Now it ends with them, in the need for magical texts to summon figures such as Lady Pole, The Raven King, and new Raven King-flavour Stephen, and in the destruction of every book but one.
We've come full Magic Circle in the tale of Jonathan Strange and Mr Norrell.
If you've been following every nook and cranny of the story then it's a fitting finale. One which is filled with the fun, provocation, and imagination of any good magic trick. It's certainly the kind of finale you imagined you'd get after seeing the promising first episode. And unlike the Paul Daniels Magic Set you don't even have to read anything to enjoy it.
The mirrors of England are broken, and no amount of enchanted wainscoting can keep Jonathan Strange or those pesky ravens out of Norrell's home. But he's not out for revenge. From a swirl of CGI, and with some of the fanciest tricks the show has seen, Jonathan arrives to ask his old mentor to help free Arabella and kill The Gentleman. It's a moving moment, especially as the two reconcile quite literally under a cloud.
The Gentleman, meanwhile is cutting a gleeful swathe of special effects and horror through the rest of the cast. Marc Warren marks his place as the best piece of casting in the show (some feat considering we're also watching Eddie Marsan and Bertie Carvel), with a Bohemian malevolence that reaches its peak with the deadpan line 'Why are you firing walnuts at me?'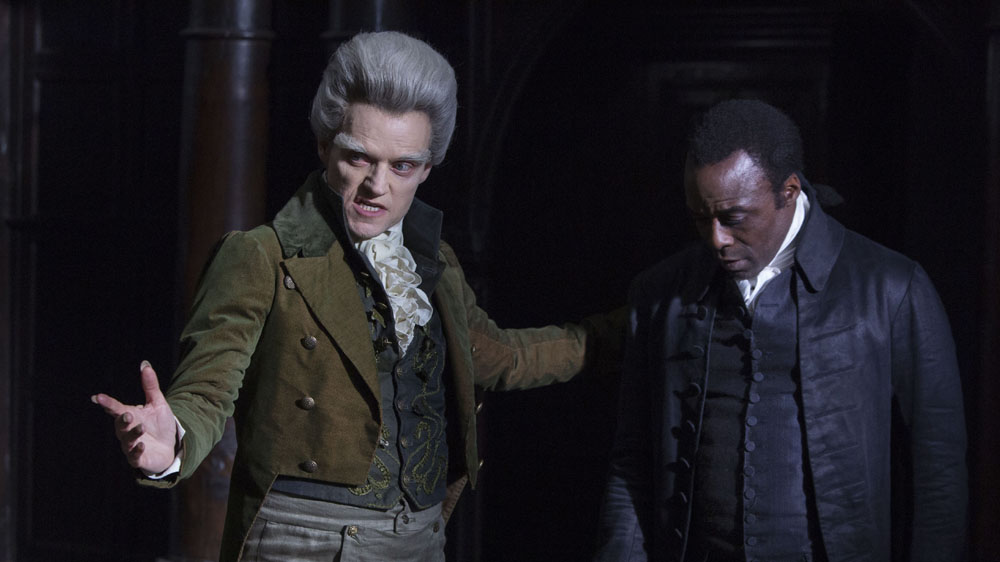 The Gentleman's the near-omnipotent toddler, moving people like pieces on a board with disregard for whatever rules the board might dictate, so it's no wonder that people at his whim feel like pawns to prophecy, none more so than 'Steeephen' (Ariyon Bakare).
At least there's time to move everyone in and out of position without it all ending in a rushed crush of Expelliarmus and expediency. Even Mr Honeyfoot and his blunderbuss have their moment (see above, for walnuts).
It's credit to writer Peter Harness that he's managed to translate the intimidating topography of Susanna Clarke's gothic-rural world without losing the actual character of each character. If Clarke's novel was the instruction book then this was a drama which followed it immaculately, dramatically, and with uniformly excellent performances.
And barring Drawlight's death (I'd grown to love Vincent Franklin's character, and his spoon), every character accumulates the fate they deserve, even if the use of magic and Milk VFX means that it feels like a beautiful 'deus ex magica'. There's great satisfaction to seeing The Gentleman being defeated by Stephen, and to Strange rescuing Arabella, but magic leaves it a little hollow and intangible in victory.
Fortunately what really packs a punch is everything that happens as consequence of the spells. Magic can solve some things, but there's always a human price. If it wasn't for the fact there was a back cover to this adaptation, you'd be wondering if Jonathan would ever be reunited with Arabella after his emotional farewell, and what spells the York society of magicians may explore now they have the unread book that is Vinculus.
Perhaps that's the best thing about Strange and Norrell's finale. It doesn't feel like an end. It feels like the end of part one. And you and I get to imagine what happens next, beyond the instruction of the book.
It's rare that an adaptation allows that, but then, to quote a famous magician with his own box and instruction book, 'That's magic!'

Aired at 9pm on Sunday 28June 2015 on BBC One.
> Order Jonathan Strange and Mr Norrell on DVD on Amazon.
What did you think of the finale? Let us know below…