Airing over five consecutive nights during Remembrance Week, BBC One's The Passing Bells takes viewers on an emotional journey through the First World War.
Filmed on location in Poland, the drama series focuses on the lives of two young men, Thomas (Paddy Gibson) and Michael (Jack Lowden), and what happens to them and their families as the war goes on.
This first episode functions in large part to chronicle the build up to war, playing on the viewers' knowledge of this time in our history; indeed, this episode plays on that dramatic irony in just the right measure, making us acutely aware of our knowledge of events these characters have yet to experience, but never in a way so egregious as to feel anything other than genuine.
A hundred years on, it is perhaps easy to forget just how unprecedented and unforeseeable the new realities of 20th century war would have been for young soldiers like Thomas and Michael, but seeing young men and their loved ones, optimistic and brave, volunteering for duty and believing themselves to be coming home unscathed within a month's time, it all becomes painfully tragic, knowing how events are to unfold.
With each episode coming in at just shy of 30 minutes, there is a lot of story to pack into a fairly small amount of time. It manages never to feel rushed, however, and maintains a balance between action and movement, and quieter moments fraught with complex emotion.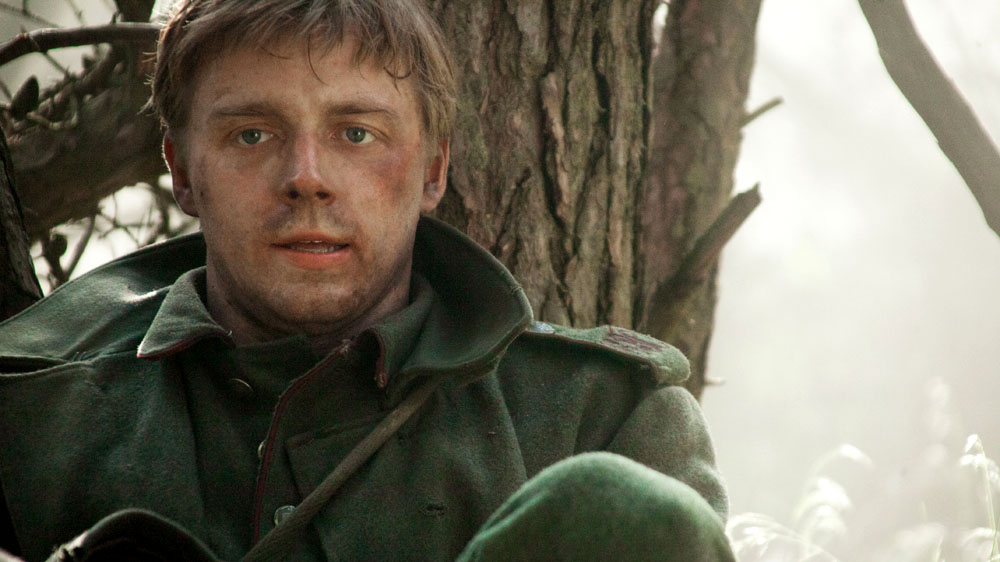 Seeing young Thomas and Michael in their uniforms for the first time, looking so very tiny and precious, brings home once again the knowledge that so many of those soldiers were really no more than kids. It goes without saying that this is not likely to be something where we can expect a very happy ending, and that we will follow Thomas and Michael to some very dark places in the episodes to come.
I watch with that sense almost of dread for the trials that are to follow for our two young soldiers and their friends and families, but find myself at the same time compelled to see what befalls them next.

Airs at 7pm on Monday 3 November 2014 on BBC One.
> Like The Passing Bells on Facebook.
> Order The Passing Bells on DVD on Amazon.
Are you looking forward to The Passing Bells? Let us know below…