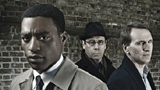 Like the drugs at the heart of the late Harvey Wratton's empire, The Shadow Line has become addictive in a slow, almost sneaky manner. After an unhurried, take-it-or-leave it start, it has insidiously built up to the point where now, three episodes in, it has become impossible to break free of its grip.
Although the police appear to be closing the case on the Wratton murder, DI Gabriel (Chiwetel Ejiofor) and DS Honey (Kierston Wareing) are given an additional three weeks to tie up any loose ends – of which Gabriel believes there are many. Meanwhile, Wratton's nephew Jay (Rafe Spall) is similarly unconvinced by the official explanation and suspects rival crime lord Bob Harris (Robert Pugh) was complicit in his uncle's murder. This leads to a confrontation with Joseph Bede (Christopher Eccleston), who has arranged a major drug deal that involves Harris.
'I'm not a leader,' Joseph shouts when Jay challenges him on his self-appointed role within the crime firm, his calm exterior finally shattering underneath the twin pressures of arranging multi-million pound narcotic transactions and caring for his terminally ill wife. 'I'm just a fucking lieutenant – and that's all I was ever supposed to be.'
The scenes with the excellent Lesley Sharp as Joseph's wife Julie – her degeneration into Alzheimer's gradually but irrevocably worsening – are heartbreakingly hard to watch and evoke a genuine sense of compassion for both her and her husband. One sequence, set on a desolate beach a long way away from the drugs and criminality of the city, is poetic without being pretentious in its depiction of the inexorable loneliness that is growing outwards from the Bedes' relationship. Joseph has etched a timeline of their lives into the sand, but the tide slowly washes it away. In the wrong hands, it could have been what Ralph Wiggum might describe as a 'the rat symbolises obviousness' moment; instead, it's incredibly moving.
As Bede copes with the pain of his wife's illness, Jonah Gabriel also has his own problems to deal with away from the Wratton case. He has secrets that he knows about – a child with a former lover whom he visits, spied on by the curious DS Honey – and secrets that are a mystery even to him: is the briefcase full of money hidden in his closet the result of 'double-dipping on impounded shit' (selling on drugs confiscated from dealers) by his late partner DS Delaney or is it from some other source? With a bullet still embedded in his brain, Gabriel can't remember; but embittered tabloid journalist Ross McGovern (a superbly sleazy Tobias Menzies) is determined to prove that the cop is as bent as his former colleague.
Although Eccleston and Ejiofor are deserving of plaudits for their performances, it's Stephen Rea who has stolen the show so far as Gatehouse, an aging Iago in a fedora and the most interesting character so far. Having demonstrated his mysteriousness last week, Gatehouse's ruthlessness is to the fore in one of Episode 3's standout scenes. The gruesome acts of violence he performs are rendered doubly shocking and trebly effective because of their unexpectedness – and because they're carried out by someone who looks so unassuming. If it weren't for the hat, he'd look like the branch manager of a building society.
The Shadow Line has improved steadily with each episode, the multiple strands of its complex plot drawing the viewer further and further into a bleak but captivating morality tale of conflict, responsibility and loss. If you can forgive its occasional lapse into unnecessary theatricality and overtly purple prose, it's easy to become hooked – and with another four episodes to go, there's no imminent need to worry about going cold turkey.

Airs at 9pm on Thursday 19th May 2011 on BBC Two.