Based on the books by Douglas Adams, Dirk Gently returns to BBC Four next month, following a pilot episode in December 2010.
> Buy the Series 1 DVD on Amazon.
The new three-part series stars Stephen Mangan (Green Wing) as the morally dubious, self-styled Holistic Detective, alongside Darren Boyd (Spy) as Dirk's business partner Richard Macduff, who attempts to rein in Dirk's more tangential decisions, keep them both out of prison and generally restore order to the chaos that Dirk creates.
The cast also incldues Helen Baxendale (Cold Feet) as Macduff's girlfriend Susan, Jason Watkins (Being Human) as Det. Insp Gilks and Lisa Jackson as the unpaid, unloved and quite deeply disturbed receptionist Janice Pearce.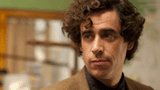 Episode 1
(Written by Howard Overman)
Monday 5th March 2012, 9pm

Dirk Gently discovers the connection between two unrelated cases: a client who believes the Pentagon are trying to kill him and another whose horoscopes appear to be coming true. When the mysteries collide, Dirk is the only man for the job.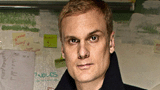 Episode 2
(Written by Matt Jones)
Monday 12th March 2012, 9pm

Dirk and Macduff return to Cambridge, to the university that expelled Dirk for cheating 20 years ago.
They have been employed by Dirk's former professor as security consultants to guard a valuable robot. However, within hours of their arrival the robot is stolen and the professor found dead, with Dirk and Macduff implicated as the chief suspects.
The professor was the only person who ever believed in Dirk, who vows to find out who is behind the murder. The chief suspects are Emelda Ransome, the brilliant but embittered computer scientist who has spent the whole of her career developing a fully functioning Artificial Intelligence, and David Cho, the Chinese programmer recently arrived from Beijing to help Emelda complete her experiment.
Macduff's girlfriend Susan is also in Cambridge at an interview for a new job which, if she got it, would mean the end of Dirk and Macduff's detective partnership.
Episode 3
(Written by Jamie Mathieson)
Monday 19th March 2012, 9pm

The police want to talk to Dirk urgently. Several of his clients have been murdered and Dirk is the only link. Convinced that he's being framed, Dirk resolves to flee the country. He is interrupted by the arrival of a beautiful woman who has been terrorised by a stalker.
To Macduff's surprise Dirk takes the case, but his surprise turns to disbelief when Dirk reveals that it's him who's been doing the stalking. When the police finally catch up with Dirk at his horribly messy flat (his dispute with his cleaner has escalated into full scale war) they reveal he isn't under suspicion – they just want to protect him from this professional killer.
With Dirk's pride dented (as if he couldn't commit a few simple murders!) he and Macduff investigate the case and discover that the only murderer Dirk ever framed has recently been released from prison…
Are you looking forward to the return of Dirk Gently? Let us know below…