Timewasters is a comedy about a struggling four-piece South London jazz band who travel back in time to the 1920's via a urine-sodden lift in a dilapidated block of flats.
Stuck in the past after their 'time machine' is destroyed, our gang decide to explore, before quickly discovering that being young and black in the Jazz Age is a lot less genteel and a lot more shady than Downton Abbey had led them to believe.
Aided and abetted by a pair of oddball twins and some 1920s luminaries (including John Logie Baird, played by Kevin Eldon), the band are forced to navigate the parties and pitfalls of the Roaring Twenties while searching for a way back home. All the while, not missing the opportunity to introduce the Bright Young Things to some of the twenty-first century's finest tunes.
Daniel Lawrence Taylor (Cockroaches, Uncle), Kadiff Kirwan (Chewing Gum, Crims), Adelayo Adedayo (Skins, Some Girls) and Samson Kayo (Youngers, The Javone Prince Show) star.
Daniel Lawrence Taylor said: "You don't see that many black people in period dramas, or in time machines, so I thought I'd try to write about both. There are so many great people on board and I can't wait to get started".
"We're really excited to be bringing a truly original and brand new scripted comedy to ITV2. Daniel Lawrence Taylor is a real shining talent and Timewasters is perfectly pitched at our key demographic of young adults," added Rosemary Newell, Head of Digital Channels and Acquisitions.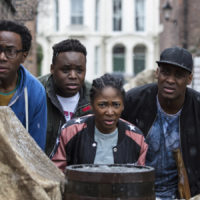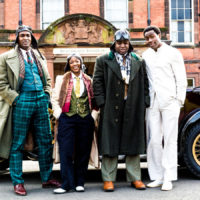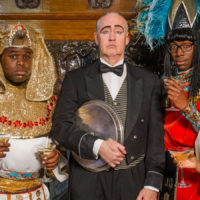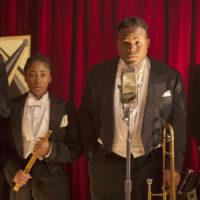 Kenton Allen, Big Talk Chief Exec said: "Daniel Lawrence Taylor's audacious idea of 4 time traveling dudes from South London going 'black to the future' has been a joy to make from start to finish. It's a brilliant concept with a cracking cast bringing Daniel's script to life. As an exciting new sitcom writer/performer DLT has a very promising future via his whip smart exploration of what would happen if we could re-visit the past.'
"Timewasters is a very funny, smart new comedy with a brilliant cast. And who knew you could travel back in time via a lift in a South London block of flats?" said Saskia Schuster, ITV's Comedy Commissioner.
Timewasters airs Monday 9 October on ITV2.