Game of Thrones, HBO's fantasy drama based on the bestselling novels by George RR Martin, returns to Sky Atlantic for a fifth season next week.
The last outing to the vast and violent Seven Kingdoms saw a number of shocking deaths as the battle for the Iron Throne escalated.
> Buy the complete Season 1-4 boxset on Amazon.
With the cast constantly expanding, here's our recap of where we left the show's key characters at the end of Season 4 last year…
Tyrion Lannister (Peter Dinklage)
After killing Shae and his father, Tywin Lannister, Tyrion fled King's Landing alongside Varys on a ship bound for Essos.
Jaime Lannister (Nikolaj Coster-Waldau)
Having released Tyrion from his cell, Jaime was inadvertently responsible for his father's brutal demise.
Cersei Lannister (Lena Headey)
Following The Mountain's bloody battle with The Viper, Cersei ordered Qyburn to do anything possible to save his life. Elsewhere, Cersei threatened to reveal her incestuous affair with Jaime if she was forced to marry Loras Tyrell.
Tywin Lannister (Charles Dance)
During his confrontation with Tyrion, Tywin received a fatal crossbow bolt to his bowels.
Arya Stark (Maisie Williams)
Arya escaped from The Hound and managed to buy passage on a ship to Braavos.
Sansa Stark (Sophie Turner)
After Littlefinger murdered her aunt, Lysa, Sansa almost crumbled under the pressure of the situation, however, she was able to convince Lord Royce of his innocence. Littlefinger confronted Sansa about her lie but she told him that she was scared of what would happen to her if he was executed for Lysa's murder. Sansa left the Eyrie with Littlefinger and Robin to tour the Vale.
Jon Snow (Kit Harrington)
Jon met with Mance Rayder under the pretence of discussing an end to their conflict, however, the arrival of Stannis Baratheon marked an end to the negotiations. Due to Jon's intervention, Mance's life was spared. Jon travelled north of the Wall and burned Ygritte's remains.
Daenerys Targaryen (Emilia Clarke)
Confronted with the charred remains of a citizen's daughter, Daenerys was forced to realise the culpability of her dragon, Drogon. Although Drogon had not returned, Daenerys chained the other two dragons in the catacombs of the city.
Brienne of Tarth (Gwendoline Christie)
Brienne discovered Arya Stark and informed her of the oath she had sworn to her mother, Catelyn, however, The Hound's suspicion of her loyalties led to a climactic battle atop the cliff. Brienne was able to overpower The Hound and sent him sprawling to his likely death. Despite searching, she was unable to find Arya.
Petyr 'Littlefinger' Baelish (Aidan Gillen)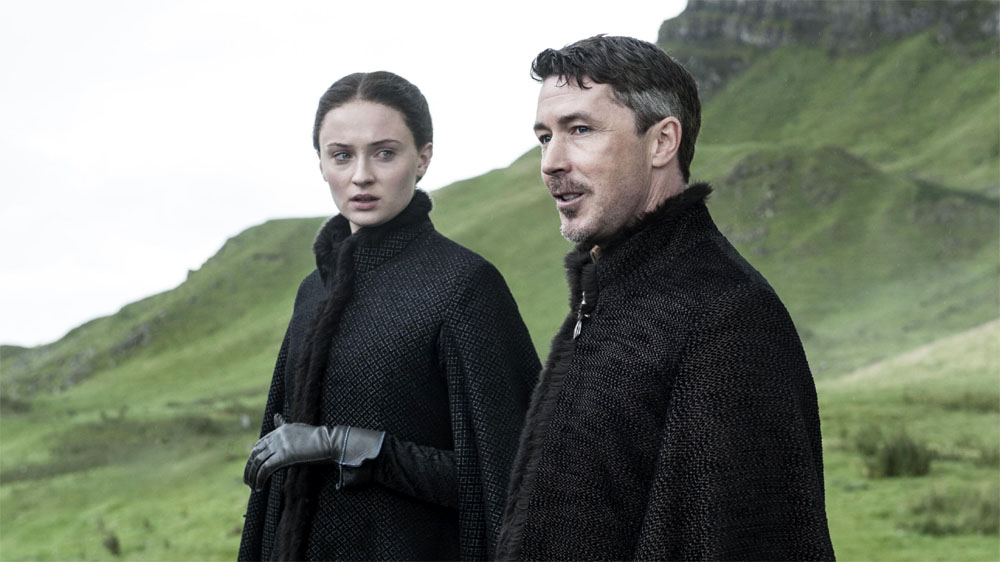 Cleared of any involvement in Lysa's death, Littlefinger left the Eyrie with Sansa and Robin on a tour of the Vale.
Margaery Tyrell (Natalie Dormer)
Margaery was last seen at Tyrion's trial for the murder of King Joffrey Baratheon.
Samwell Tarly (John Bradley)
Sam was present as the Night's Watch burned the bodies of those slain during the Battle of Castle Black.
Stannis Baratheon (Stephen Dillane)
Following the Battle of Castle Black, Stannis arrived with his army to fight back against the Wildlings onslaught. Mance's forces surrendered to Stannis and the would-be king came face-to-face with Jon Snow. Jon informed him of his support for Stannis' claim and persuaded him to spare Mance's life. Stannis was later present at the Watch's funeral for their fallen brothers.
Davos Seaworth (Liam Cunningham)
Davos helped Stannis' forces to crush Mance's army and informed the defeated Wildling leader of his presence before the one true king of Westeros. Alongside Stannis, Davos was present at the Night Watch's funeral.
Lady Melisandre (Carice van Houten)
Melisandre accompanied Stannis to the North but did not take part in the ensuing battle. During the Night Watch's funeral, Melisandre fixed her stare upon Jon Snow.
Theon Greyjoy (Alfie Allen)
A prisoner of Ramsay Bolton and mockingly renamed 'Reek', Theon and Ramsay accompanied Roose's army towards the ruins of Winterfell.
Ramsay Bolton (Iwan Rheon)
Ramsay besieged Moat Cailin and sent Reek to treat with the Ironborn garrisoned there. Believing that Ramsay will allow them safe passage back to the Iron Islands, Ramsay instead has them flayed and takes Moat Cailin. Impressed by his son's efforts, Roose produced a document which officially legitimised Ramsay.
Sandor 'The Hound' Clegane (Rory McCann)
Bested by Brienne, The Hound begged Arya to kill him, however, he was left to die alone.
Bronn (Jerome Flynn)
Bronn declined Tyrion's request to fight The Mountain for him and apologetically left his old friend to his fate.
Lord Varys (Conleth Hill)
Varys boarded a ship bound for Essos with Tyrion.
Shae (Sibel Kekilli)
Tyrion discovered Shae lying naked in his father's bed and following a struggle, he strangled her with the golden chains he had given her.
Tormund Giantsbane (Kristofer Hivju)
Tormund informed Jon that Ygritte had truly loved him and asked if Jon had loved her. He requested that Jon adhere Ygritte's wishes and have her body burnt north of the Wall.
Gilly (Hannah Murray)
During the Battle of Castle Black, Gilly hid in a storage room with her son. She begged Sam not to die in the battle and the two shared a kiss. Gilly was reunited with Sam after the battle.
Jorah Mormont (Iain Glen)
Daenerys discovered Jorah's previous treachery and, despite his later loyalty towards her, had him banished from her side and from the city.
Who was your favourite character in Season 4? Let us know below…