Welsh actress Eve Myles returns to the stage next month alongside Zach Braff (Scrubs, Garden State) in his new play, All New People.
Last seen in BBC One's Torchwood: Miracle Day, Myles stars as Emma in the play, which opens at the Duke of York's Theatre in London on 22nd February.
Before arriving in London for 10 weeks, audiences in Manchester and Glasgow can see the play at the Manchester Opera House between 8–11 February and the King's Theatre in Glasgow between 14–18 February.
CultBox caught up with Eve to find out more…
So All New People opens in Manchester in a couple of weeks, how are rehearsals going?
"Rehearsals are going – I don't want to say too much too early, I'm trying to find something in the room that's wood so I can touch it – they're going really well. It's such a short play and it moves at such a pace that you can't help but get cracking on it. It's very, very funny. Zach Braff is a genius."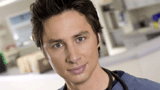 What's Zach Braff like to work with?

"I'm a huge fan of Zach – I love Scrubs and I loved his movie, Garden State – so I was obviously very much in awe before meeting him and I did my actual audition over Skype with him in LA. I had JD in my office! That was the most surreal, bizarre evening of my life. He was so lovely straight away.
"Now working with him… I'm not going to lie, the first day or so I was staring at him at him just going 'oh my God, OH MY GOD' and being a bit daft!
"What's really nice is that not only is he a stunningly wonderful comic actor to work with but he's written it as well, so if any changes are needed he just does it on the spot. I've worked with so many writers that can be quite precious about a word and he's not, he's just precious about making it better."
How long has it been since your last theatre part?

"Too long, my friend, I'm absolutely shitting it! My last theatre job was at the National doing Henry IV with Michael Gambon about six and a half years ago. I went straight from that into the first series of Torchwood."
Is it strange adapting back to working on stage?

"Not really, in a way. I'd been wanting to get back to theatre for the last three years, but I've been busy in the States with Torchwood and had my little baby.
"You kinda need to be at the right time in your life to take the time out for it, which is what every actor really wants to do. It's petrifying that I'm going to be in front of a live audience for the first time in six years, but it's exhilarating at the same time. It's about learning all the disciplines again."
Are you nervous about the first night?

"I'll be nervous until the last night! That's just the kind of person I am, even with filming. The first night will not be more nervous than the last night. But give me five minutes onstage then I'll start enjoying it."
Can you tell us a bit about your character in the play?

"I play a character called Emma, who is a real estate person living in a derelict part of an island just off New Jersey. This place does exist and in the winter months it's kinda shut down, so it takes a certain kind of person to want to be there in the winter.
"Emma's got a real troubled past and had to leave England for a particular reason. She's a complete English eccentric troubled young woman."
How's the English accent going?

"Fine, I've done it several times before. I've never played Welsh in theatre actually. I kinda thrive on it as I have such a distinctive Welsh accent; it's nice to be able to surprise people."
> Read the second part of our exclusive interview with Eve about the future of Torchwood.
Are you going to see the play? Let us know below…
> Buy Torchwood: Miracle Day on DVD on Amazon.
Watch the Miracle Day trailer…