Welsh actress Eve Myles returns to the stage next month alongside Zach Braff (Scrubs, Garden State) in his new play, All New People.
Last seen in BBC One's Torchwood: Miracle Day, Myles stars as Emma in the play, which opens at the Duke of York's Theatre in London on 22nd February.
Before arriving in London for 10 weeks, audiences in Manchester and Glasgow can see the play at the Manchester Opera House between 8–11 February and the King's Theatre in Glasgow between 14–18 February.
CultBox caught up with Eve for a chat…
> Read the first part of our exclusive interview with Eve about the play.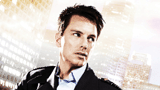 What's the latest you've heard on the future of Torchwood?
"As far as I know at the moment, everything's still very much on hold. Russell [T Davies] has things happening in his personal life.
"John [Barrowman] is very much on the same page as me, in that if and when they need us, they can just pick the phone up and we will be there before they've even put the phone down, because it's something we love doing.
"Nothing's going to happen in 2012, I know that much for sure. But who knows what will happen in 2013. Maybe a movie, to kinda draw a line under it.
"That's the thing about Torchwood, every series we've changed our format. We've always had a gap in between, so fingers crossed, because we've got such an outstanding loyal fan base. They deserve Torchwood to go ahead with something else to draw a line under it, for the fans to have a bit of closure.

Having moved from Wales to America for Miracle Day, where else in the world would you like to film the show?
"Ireland, I love Guinness! I think it'd be nice to be back in Wales. That's where it was born and maybe it'd be nice to end it there. There's nothing wrong with Cardiff! It's as good as LA – if not better!"
After quite a long shoot on Miracle Day, do you miss the cast after spending so long together and have you seen them since?

"Yeah, we have actually. We're very lucky with sci-fi, we get to do all these conventions and signings. With actors you're all over the world and you try to keep in touch with your buddies but before you know it, work takes over. But because we get the chance to do all these appearances and signings it bring us all back together!
"That last one we had Alexa [Havins], Arlene [Tur], myself, Kai Owen… we all met in London and it was fantastic. John and I are in touch a lot with his concerts and things. Everywhere he goes he's very close to my heart.
"Kai Owen just annoys me constantly! We're best friends; not a day goes by when we're not txting each other."
And how about Gwen's baby?

"Baby Anwen was baby Oliver! Baby Anwen was two wonderful little twin boys in LA, so no, I don't get to see those cheeky chaps. My God, they were beautiful little boys, always smiling! Aw, they were great!
With the 50th anniversary of Doctor Who coming up next year, would you be up for returning as Gwen for that?

"Um, I said something at one of these conventions and the press kinda jumped on it: "EVE MYLES THINKS BEING INVOLVED IN THE 50TH ANNINVERSARY OF DOCTOR WHO IS INAPPROPRIATE."
"Now, this has come across wrong and I want to get this out that I didn't mean it like that! What I meant was that the direction we were taking with Torchwood was very violent kind of storylines. The characters were going through certain narratives that are pretty hefty and adult. What I meant was that it's difficult for a character to do those kind of scenes then do Doctor Who, which my niece and my nephews watch. And I would never let them watch Torchwood!
"It's a difficult crossover. It works with Captain Jack because John does it beautifully. If I was asked it would be an absolute honour to be involved with something as huge as Doctor Who again.
"We were born from Doctor Who and we will be eternally grateful to the mothership. And I always say that and that never gets printed! If I was involved, I'm sure it'd be a wonderful thing but there's been no phone call or no talk about it so I doubt very much that I will be involved, but I'd be honoured."
Are you a fan of his Matt Smith's Doctor?

"Yeah, I think he's put a lovely new twist on it. I love how he plays it like some sort of mad man Einstein. It's really kind of cool and young and intelligent and witty.
"I thought he was a wonderful actor beforehand as well, he's great."
> Read the first part of our exclusive interview with Eve about All New People.
> Visit the official website for more information and to buy tickets.
Would you like to see Torchwood return? Let us know below…
> Buy Torchwood: Miracle Day on DVD on Amazon.
Watch the Miracle Day trailer…