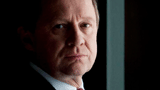 A new clip has been released for next week's episode of Spooks. The Series 9 finale sees Section D face their toughest challenge yet when they are tasked with tracking one of their own.
The episode airs at 9pm on Monday 8th November.
In the clip, the team attempt to bring Lucas in, but he escapes – the chase ends with a shootout, but will Lucas survive?