Emily is Back in Paris as Emily in Paris season 2 starts filming
As we learn Emily in Paris is back in production in Paris, St. Tropez and other locations in France, Netflix has also shared some data into just how popular the show has been. The first season of the comedy, which stars Lily Collins and hails from creator, writer and executive producer Darren Star (Younger, Sex and the City), captivated audiences around the world. During a recent Academy of Television Arts & Science panel on the series, Netflix revealed that 58 million households around the world chose to watch it in its first 28 days, making it Netflix's most popular comedy series of 2020.

If you haven't caught season 1 (yet), the series follows Emily, an ambitious twenty-something marketing executive from Chicago, unexpectedly lands her dream job in Paris when her company acquires a French luxury marketing company — and she is tasked with revamping their social media strategy. Emily's new life in Paris is filled with intoxicating adventures and surprising challenges  as she juggles winning over her work colleagues, making friends, and navigating new romances.
We particularly like how Netflix went to the trouble to create a note below from Sylvie Grateau, Emily's boss at the Savoir Agency in Paris, for the details on Emily's latest assignment, something they also did with the renewal announcement.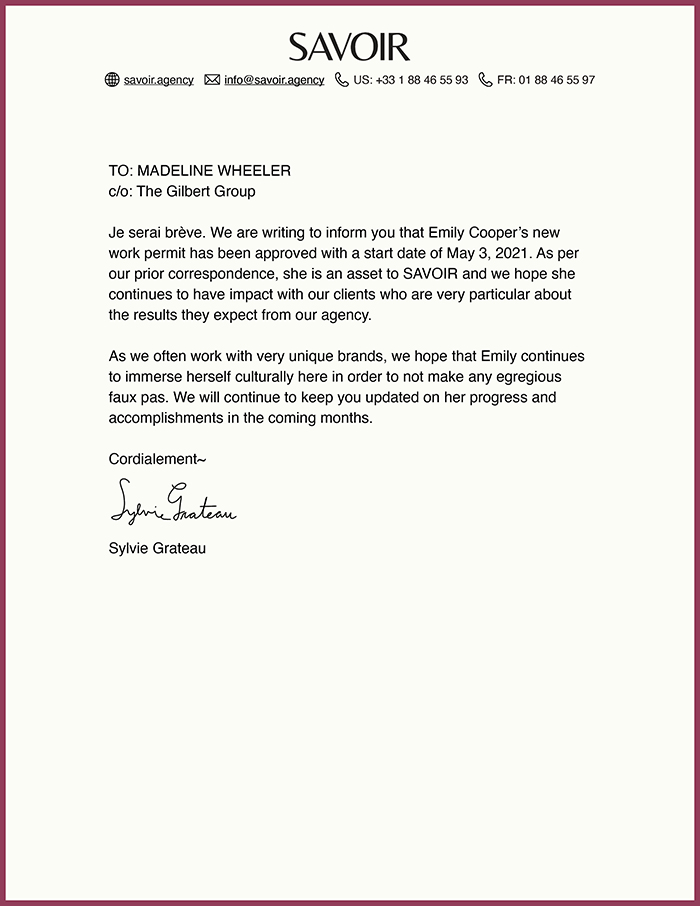 We'll bring you more information as we get it, until then you can always watch season 1 now on Netflix.