The four-part story originally aired in 1966 and will be available on DVD from 14th February 2011.
"Materialising in what appears to be a jungle on Earth, the Doctor, Steven and Dodo soon realise that things are not what they seem: the sky is made of steel, and the jungle merely a colossal life chamber in a craft that has embarked on the most important expedition in the history of mankind. It is ten million years in the future, and the Earth is soon to be engulfed by the Sun in a catastrophic explosion.
"A gigantic space ark has been launched, taking the last humans to a new life on the distant planet of Refusis, serving the Guardians of Earth are the Monoids, mute reptilian aliens. But the Ark's mission of deliverance is threatened by the arrival of the time travellers; Dodo inadvertently passes her cold to the Guardians – to them, it is a long-forgotten virus against which they have no defence. It is not long before people start to die and the TARDIS crew are on trial for their own lives."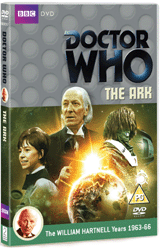 The extras are as follows:
– Commentary with actor Peter Purves and director Michael Imison, moderated by Toby Hadoke.
– 'All's Well's That Ends Wells' (a 13-minute feature looking at how 'The Ark' and other Doctor Who adventures were inspired by the work of writer H.G. Wells, with writers and historians Matthew Sweet and Dominic Sandbrook, author and critic Kim Newman, literary editor Graham Sleight and the Open University's Dr. Anthony Keen).
– 'One Hit Wonder' (a 4-minute feature looking what gives certain monsters an enduring popularity, with author Jacqueline Rayner, writers and historians Dominic Sandbrook and Matthew Sweet, and author and critic Kim Newman).
– 'Riverside Story' (a 20-minute feature looking at Hammersmith's Riverside Studios, which played host to the creation of many Doctor Who stories in the 1960s. Matthew Sweet takes actor Peter Purves back to the studio that once also contained the Celestial Toyroom, the Plains of Troy and the planet Refusis to talk about the creation of 'The Ark').
– Photo gallery, including production, design and publicity photos from the story.