The ten-part co-production with US cable channel Starz launched on BBC One in July 2011.
Chibnall wrote eight Torchwood episodes during Series 1 and Series 2 and has spoken about his views on Miracle Day, telling Starburst: "I did a bit of very early storylining with Russell [T Davies] on Miracle Day, right at the start… I think somewhere along the way it sort of lost a little bit of its Torchwood-ness. Whether you like or dislike Torchwood, it has an essence – of madness and cheekiness and sexiness, and fun and darkness, those sort of polar facets of what it's about, of putting those things together – and somehow it lost a bit of that somewhere in the process."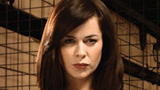 He continued: "When we were first talking about it, it was something a bit bolder, a bit cheekier. It may just come back to the fact that one of the great essences of Torchwood was taking those American tropes and doing them in Wales. And in a way, that's what made Torchwood so brilliantly odd. Once you put it in California, it becomes more like other shows."
Asked if he believed Torchwood will ever return, Chibnall commented: "It's entirely down to Russell. I would expect he will have other things he'll want to write, to be honest."
Discussing the trio of shows that were on air at the end of the last decade – Doctor Who, Torchwood and The Sarah Jane Adventures – he added: "I think that's the wonderful thing of that universe that Russell created and interwove, because actually, what the whole thing is, is a massive exercise in marketing. And branding, because really he's got a family show and an adult show and a kid's show which are very separate entities but he used that umbrella. That's the real achievement of that era and I don't think you'll ever see the Doctor Who universe be as ubiquitous and all-encompassing. That was a really magic time…"
John Barrowman exclusively told CultBox recently that hed would like to see his novel Exodus Code adapted as a Torchwood movie or TV series. Written by Barrowman and his sister Carole, Exodus Code was published by BBC Books last year.
Do you think Torchwood will return? Let us know below…
> Buy Torchwood: Miracle Day on DVD on Amazon.
Watch the Miracle Day trailer…