With only Motorway Cops as competition, Broadchurch recorded its highest viewing figures of the series so far with 7.6m viewers and easily won the 9pm time slot on Monday.
Tuesday saw The Syndicate begin its second run and 5.4m (23.1%) viewers tuned in to the opening episode. Elsewhere, it was much the same story as usual. CSI performed well for Channel 5 with 1.4m (6.1%) and its New York counterpart was up slightly on last week with 763k (4.6%) viewers.
We said goodbye to a television legend in Dallas this week as the funeral of JR Ewing was screened on Channel 5 to an unimpressive 399k (4.4%) in its 11pm slot.
Heading Out continues to flounder a little with 730k (4%) viewers on BBC Two, whilst Shameless attracted 1m (6.4%) viewers to the latest goings on at the Chatsworth Estate.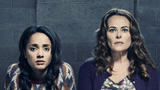 Lightfields had a better week this week and managed 3.1m viewers and the second episode of Prisoners' Wives was up too with 4.1m (18.6%).
Meanwhile, BBC Three's Afghanistan-set sitcom Bluestone 42 brought in 506k (2.7%) people, Sky Living's Elementary attracted 447k (1.9%) and 376k (1.6%) children of the night tuned into ITV2 for The Vampire Diaries.
Watch the Broadchurch trailer…
All data was supplied by Attentional, Digital Spy and The Guardian.
What have you enjoyed on TV this week? Let us know below…