As Star Cops celebrates its 35th anniversary the audio producers release news of six more episodes. 
Fondly remembered by those who caught its original broadcast, and the fans it has gathered since, Star Cops was an engaging BBC police procedural set a few paces into the future.
The show told the story of the International Space Police Force, investigating crimes as humanity begins to reach out to the stars.
Star Cops was created by Blakes' 7 script editor and Doctor Who writer Chris Boucher. While it failed to set the television firmament alight in 1987, the show has recently enjoyed a creative resurgence; Big Finish Productions have released two series of full-cast audio dramas, plus two audio novels, since 2018.
Fan Paul Watts has also complied a behind-the-scenes book telling the show's story, entitled 'Above the Law'.
Now, as Star Cops celebrates its 35th anniversary, the audio producers have announced a further set of investigations.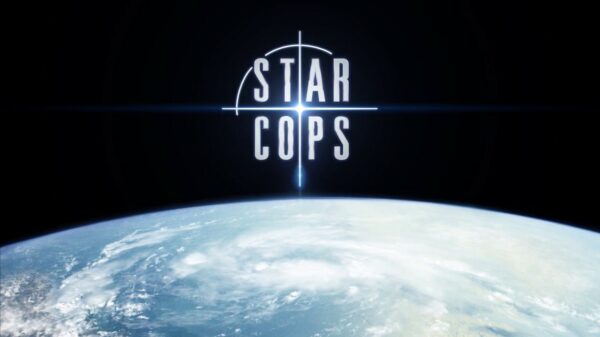 The High Frontier
In six episodes, across two volumes, original cast members David Calder, Trevor Cooper and Linda Newton will reprise their roles as Commander Nathan Spring, Inspector Colin Devis and the newly promoted Acting Chief Superintendent Pal Kenzy. Joining them, Philip Olivier returns as Inspector Paul Bailey.
While there are no story details as yet, we do know the episode titles and writers for the first volume:
'Dead Air' by Roland Moore
'Hostile Takeover' by Rossa McPhillips
'Death in the Desert' by Sarah Grochala
The first audio series, Mother Earth, dealt with terrorism in space, while the second made good on the television series' promise to visit Mars. We're fascinated to see where script editor Andrew Smith has taken the show next. "The high frontier" was used in Star Cops as an allusion for living and working in space, but could it indicate stories set beyond Mars in this case? The asteroid bet perhaps?
We also note there's no mention of Rakhee Thakrar's Chief Superintendent Priya Basu. However, space can be a dangerous place… or more likely, the actor's other commitments (Sex Education, Karen Pirie) clashed.
Of the announcement, David Calder said:
"It's wonderful to be able to celebrate the 35th anniversary of Star Cops with these new stories. I didn't imagine Nathan, Kenzy and Devis would work together again after the TV series, but it's been a joy to be back together again, to bring these characters into the audio world and let them fly. It's a real pleasure to introduce them to new audiences after 35 years."
Linda Newton agrees:
"Being back together is fantastic, particularly working with David and Trevor, it's like 35 years hasn't happened. We slot back in to a rapport and repartee. Star Cops is The Little Engine That Could – it shouldn't have died, and it hasn't died, even Covid can't do that and after two and a half years of lockdown it's fantastic we're back in the studio in time to celebrate the 35th anniversary."
Trevor Cooper added:
"It was so disappointing when Star Cops the TV series was cancelled, so I never imagined the ineffable force of nature that is Colin Devis would still be fighting crime and pushing his luck 35 years later.
Star Cops: The High Frontier 1 is released in November 2022, with Volume 2 following in May 2023.
Both are available to pre-order now on Collectors Edition CD or digital download from Big Finish.