Four new episodes will conclude the story of Sephy and Callum. 
With its second series set to launch on the 26th of April, the BBC have released a trailer for Noughts + Crosses.
Adapted from Malorie Blackman's bestselling novels, Noughts + Crosses takes place in a dystopian alternate world. It tells of the forbidden love story between Sehpy (Masali Baduza) and Callum (Jack Rowan). She is a member of the black ruling class known as 'Crosses' and the daughter of a prominent politician; he is a 'Nought' – a white member of the underclass who were once slaves to the Crosses.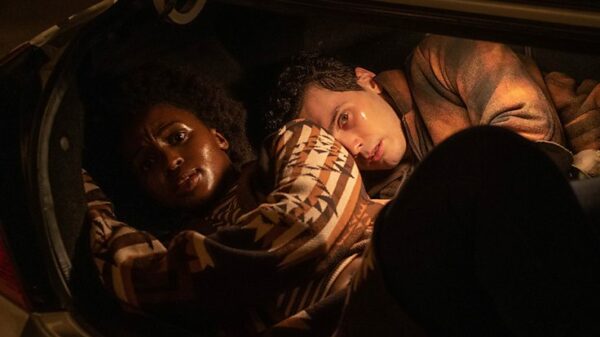 Noughts + Crosses series 2 promises to "…bring the iconic, forbidden love story between Sephy and Callum to its epic conclusion."
"Love Unites. Hate Divides."
It's only a brief tease, but there's a hint of the escalating tensions and a first look at new cast members Michael Dapaah and Judi Love in action. Dappah plays Mensah, a powerful and influential television personality who enjoys a fractious relationship with his co-host Chidi Abara, played by Judi Love.
Joining Masali Baduza and Jack Rowan, the returning cast includes Helen Baxendale, Paterson Joseph, Bonnie Mbuli, Jonathan Ajayi, Josh Dylan and Kiké Brimah.
New cast members
This series, the show adds Jasmine Jobson (Top Boy), Mayuri Naidu and Morgan Watkins. Additionally, Iretiola Doyle will appear as the Empress of Aprica and Robert Hands (Endeavour) plays the mysterious Clem.
Noughts + Crosses is produced by Mammoth Screen for the BBC. It's written by Lydia Adetunji and Jerome Bucchan-Nelson, directed by Koby Adom and produced by Sarah Lewis.
Noughts + Crosses series 2 lands on BBC One at 10.40 pm on Tuesday, April the 26th. While series 1 ran for 6 parts, series 2 only consists of 4 hour-long episodes.
It will also appear in full on BBC iPlayer, where the first series remains available.