'You've made a right hash of this, haven't you?' rasps a customarily grumpy Lord Sugar in The Power of Three, and he's not a million miles from the truth.
With the honourable exception of a rapper whose name was once spelled out by the lights of the Goodyear Blimp, cubes in entertainment are to be approached with caution – and while this hexahedrally-heavy edition of Doctor Who is thankfully nowhere near as woeful as the Philip Schofield's ITV1 gameshow, it's light years from the high standards set at the beginning of the present series.
If it's better than last week's saddle-sore cowboy caper, it's solely down to the superb performances of the lead actors. But not even the power of these three (five if you count Mark Williams and Jemma Redgrave, who are also excellent) can save a mediocre episode from floundering beyond rescue.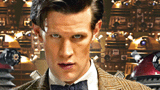 In what feels like an idea rejected from Chris Chibnall's Torchwood days, the Earth comes under attack from billions of black boxes and the Shakri (Steven Berkoff), 'a myth to keep the young of Gallifrey in their place' who looks and sounds like Anthony Hopkins playing the Emperor from Star Wars.
It's a wannabe epic, taking place over the course of a year and affecting the entire world, but (and this is definitely a latter-day Torchwood trait) neither the passing of time nor the global scale are convincing.
Nor is the story itself. A quarter of the planet's human population – 2.3 billion people! – suffer apparently fatal heart attacks, yet the Doctor (whose own mono-cardiac arrest is handily defibrillated by the member of Team Pond with no medical training) saves them with an airy wave of his sonic screwdriver, directly bypassing any sense of peril. There's more tension in a snapped elastic band.
A couple of spookily-snouted blokes – possibly aliens, possibly clones, possibly extras from Holby City who have started to mutate, it's never made clear – hang around a London hospital for twelve months and kidnap a few people on gurneys, while yet another weird, mute kid spends the same period of time in casualty, glowing blue without being noticed. Elsewhere, Brian Williams spends four days in the TARDIS without needing food, drink or a piss and… Amy is a journalist? Did we miss a memo on that?
Such implausibilities and loose ends aren't necessarily a bad thing in Doctor Who, but their cumulative effect here – allied to the terminal lack of jeopardy – is toxic to the suspension of disbelief.
If a story's good, holes in the plot or things requiring Rutherfordian leaps of faith simply don't matter; they're subsumed by the excitement and wonder. But if the narrative is deficient, the absence of credulity brings everything crashing down and the episode is swept away in a landslide of mess and meh. That's pretty much what happened in A Town Called Mercy, and not even the best attempts of Matt Smith, Karen Gillan and Arthur Darvill can stop history repeating itself here.
They try their damnedest, though. Darvill is on superbly lugubrious comic form as usual, hopping around in his pants and bemoaning the presence of UNIT troops in his home, while Gillan gives her best performance in two years; the scene in which Amy and the Doctor sit on the banks of the Thames at night is the undoubted highlight of the episode, as sublime as it is understated.
Chibnall's story may be lacking but his dialogue sparkles, and when the Girl Who Waited tells her Time Lord pal that she and her hubby are considering ditching a life of madcap adventure in favour of being ordinary adults, there's a genuine sense of the Doctor as Peter Pandorica, the 1200-year-old who paradoxically has never grown up. It's sad and sweet and special, just like the best of Doctor Who always is. But as one of only six episodes airing in 2012, it's just not enough.

Aired at 7.30pm on Saturday 22nd September 2012 on BBC One.
> Order Series 7 Part 1 on DVD on Amazon.
What did you think of The Power of Three? Let us know below…