Wow. What have we just witnessed?
For the next six weeks we'll be reviewing the sophomore season of BBC One's least accurately titled drama, Happy Valley.
We're going to assume that you've already seen it (the first season was on top of many people's list of top telly back in 2014), but if you haven't then the Beeb have put up a handy 6-minute recap on iPlayer – or catch up with our episode guide here. It's worth reminding yourself of the unflinching violence and incredible performances from a fantastic ensemble cast before delving into the new season. It goes without saying that beyond this point are spoilers for everything that has aired so far.
As with many of the BBC's best recent dramas (hey there, Doctor Foster), the first season wrapped up so perfectly that it was hard to imagine how a follow up could work without screwing up the positive thoughts of what came before (we're looking at you, Broadchurch). Thankfully, the first instalment of new Happy Valley has only left us excited for what is yet to come.
We open with the incredible Sarah Lancashire as police sergeant Catherine recounting a shaggy dog story about sheep rustling and poisoned pets to her sister Clare (the equally impressive Siobhan Finneran). Their sisterly love for one another was a really important part of the first season and we're so pleased to see them on screen together again.
But I suspect fireworks may be down the line after Clare bumps into Neil (Con O'Neill), an old crush who admits to having always been terrified of Catherine although we couldn't help but see his eyes linger on her a little too long. Is Clare headed for a broken heart? Let's hope it doesn't lead her back to the drugs she's turned her back on.
The end of Catherine's story reveals that in the process of arresting the sheep rustlers she discovered a rotting corpse. And not just any old cadaver but the mother of Tommy Lee Royce, the man who raped her daughter, fathered her grandson Ryan and led the brutal kidnapping at the heart of the first season.
It's a canny way of tying James Norton back into the story from his prison cell, one that fortunately doesn't feel too contrived. Catherine had recently warned her from staying away from their grandson which naturally leads her to being under scrutiny for her whereabouts. "You're not a suspect," says Katherine Kelly. Yeah right.
To be frank, the return of Tommy Lee Royce was my biggest concern about the show coming back – how could they justify his inclusion, surely his story had ended? The teaser trailers have already revealed that he'll be let out (presumably on day release), but does Shirley Henderson's Frances have a big hand to play in all this?
Her brief appearances showed her visiting Royce (sitting far too close for him for my liking, we could taste her desperation through the screen) and then later watching young Ryan through the kitchen window. Sidenote: she really needs to buy an umbrella, she'll catch her death.
Frances isn't the only new character for this season. Joining Con O'Neill for the Cucumber/Banana reunion is Julie Hesmondhalgh as the unsuspecting wife of Detective Sergeant John Wadsworth, played by Kevin Doyle. John's mistress has rocked up outside his marital home having not heard from him in days and anxiously demanding answers.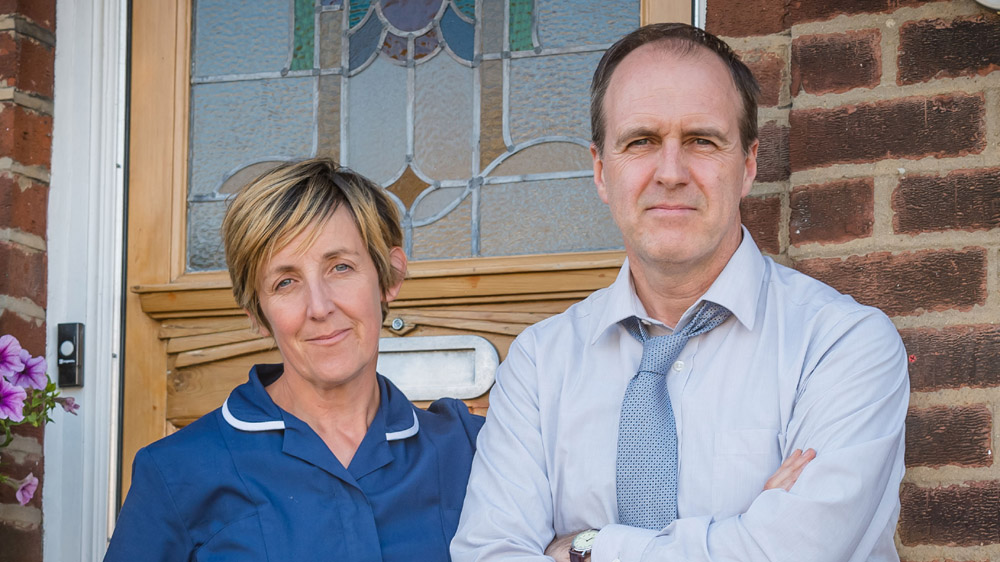 Amelia Bullmore is brilliant as Vicky, the clearly unhinged cosmetics supervisor/mistress/drugging kidnapper/blackmailer. Having photographed the detective naked in women's underwear, feather boa and surrounded by alcohol and sex toys, Vicky wants £1,000 a month from her now former lover.
This is part of the subtle brilliance of Sally Wainwright's writing – many a drama would go for the bigger ransom demand but actually a relatively small amount like this on a regular basis is a terrifying concept.
There is still so much more to talk about:
The return of the Gallagher family from last season and how Ann (the kidnap victim) is now working alongside Catherine.
The farmers who were part of the opening sheep rustling gag? By the end they've been violently targeted by the perpetrators having been let off with a caution – I think there's a bigger story waiting in the wings here.
"Why do you assume it was a man?" Catherine asks Ann when told that Royce's mum was sexually assaulted with a broken bottle. Sarah Lancashire is formidable throughout the episode, but this was a new level of chilling.
But what did you think? Where are things leading? Have you got any theories on what will happen next? Excuse me whilst I go defog Shirley Henderson's glasses.

Aired at 9pm on Tuesday 9 February 2016 on BBC One.
> Buy the complete Season 1-2 box set on Amazon.
What did you think of this week's episode? Let us know below…