There is no doubt in my mind that the Broadchurch team did everything they could to make last night's finale an amazing one.
However, despite their efforts, whether the episode was satisfying or not depends very much on how you enjoyed the rest of the season.
If you are one of the people who felt Season 2 lagged behind plot-wise and never really seemed to get going, there is a good chance that you found last night's instalment anti-climactic. That said, despite the season's lower points, I really enjoyed the finale overall.
First off, the hour had excellent pace. In the first few moments of the episode we have that shocking 'Not Guilty' verdict and Claire's arrest by Hardy while still sitting in the dock. It's a brutal scene, but one that draws great performances from Andrew Buchan and Jodie Whittaker, as Mark and Beth Latimer.
"Our lives get put through hell and a guilty man walks free," Mark Latimer states. Further revelations, such as Tess discovering it was Claire who stole the pendant from her car and Joe Miller seeking sanctuary at the church ("I want to come home"), added real bite.
Mind you, there is an overwhelming sense of annoyance that if they had kept up this kind of pace throughout the season then we wouldn't have had that slower run of episodes that didn't hold our interest.
It's also to the credit of writer Chris Chibnall that he uses the show's history and more recent plots to make everything come full circle. There are echoes of Season 1's finale here; all the cast gathered on the cliff top (previously it was for Danny's candlelit remembrance and here it was to banish Joe Miller out of town as a united front) and Ellie's return to the police station to solve the season's main crime.
The episode had a very clever construction as well. It bookended the Broadchurch events at the beginning and end of the episode but the middle part of the episode was dedicated almost solely to the Sandbrook case. This kept us guessing on Joe Miller's eventual fate and also finally gave those involved in Sandbrook time to breathe and get the story's truth told in a satisfying way.
Sandbrook's reveal is a chilling and dark set of revelations that makes perfect sense when piecing all the clues together and working out why none of the three (Ricky, Lee or Claire) wanted to implicate each other. The flashbacks are beautifully crafted and have a sort of Desperate Housewives feel to them (in a good way!), both in setting and tone.
The idea that it was the three of them was something I had genuinely never considered, though I knew pretty much straight off that they were two separate crimes (otherwise why wouldn't the bodies be found together?).
Eve Myles is particularly chilling here, both in that striking interview sequence where she starts manipulating Hardy with questions and in the flashback where she coolly instructs Lee to finish Pippa off to help them survive.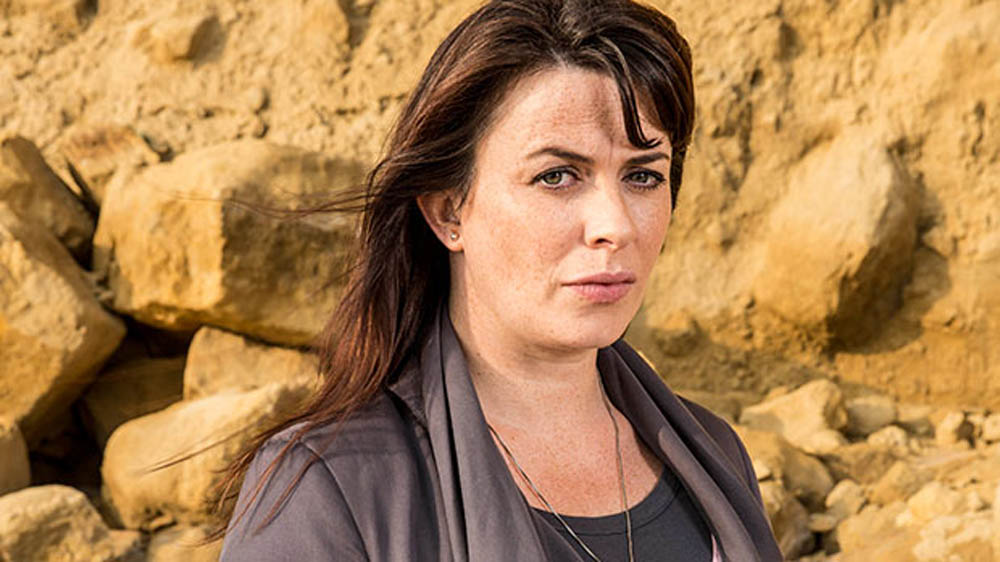 "Did you give her that stuff from the flask?" Lee inquires. Staring calmly at him, she replies: "She'll be asleep now," prompting him to take Pippa's life. As she then breaks down in the interview ("I only came home that night to tell him I was pregnant"), Myles proves again what a brilliant actress she is.
With the Sandbrook case resolved, we head back to Broadchurch where Joe Miller, having not received the sanctuary he wanted from Rev. Coates ("I trusted you") is led off by Nige and Mark to the hut where he killed Danny to face off against his wife and the mother of the child he murdered. Jodie Whittaker excels here, as the grieving but strong mother, face to face with her boy's killer.
"Do you know how many knives there are in here? Fourteen. I counted them while I was waiting. I thought about which would be best to use on you," she explains coldly, before judging Joe for his actions and sending him on his way. It's a beautiful moment, aided by another yet heart-breaking performance from Olivia Colman.
Joe is banished from Broadchurch as the entire town looks on. It's a strong moment, but one that feels like the wrong resolution after 16 episodes with these characters. If he was heartless enough to fight for his freedom and get it after murdering a child, the rules of TV drama state that he must be offed. Of course, that's precisely the reason Chibnall has chosen to avoid this option, but it's still hard not to feel disappointed at the decision, almost as much as at the lack of a 'Guilty' verdict.
Yes, Season 2 was far from perfect, but as a send-off this is a brilliant episode, dealing admirably with both mysteries and giving the characters some closure at last.

Aired at 9pm on Monday 23 February 2015 on ITV.
> Order Season 2 on DVD on Amazon.
What did you think of Season 2's finale? Let us know below…