It has been almost two and half years since the last episode of Luther aired, but you'd barely know it when watching this confident return.
This episode is the first of a two-part special bringing Idris Elba's iconic troubled but brilliant cop back to the screen, and while there are at least a couple of subtle callbacks to the previous seasons of the show, there's nothing so overt that it draws attention to how long it's been since the last episode.
Luther is just carrying on its story, and it's all the better for it.
In this opening episode (spoilers from this point on), John Luther (Elba) is drawn back into policing with a mystery, and it's a personal one that hits close to home. He's clearly still feeling the pain of his partner's death at the end of last season when DCI Theo Bloom (Darren Boyd) and DS Emma Lane (Rose Leslie) turn up at his door, bringing news of the death of Alice Morgan (Ruth Wilson).
She's drowned, they say, and it's apparently confirmed by both dental records and fingerprints. But even with this proof, it's all too obvious Luther's not buying it, he immediately begins treating this as a case to be solved, and everyone watching knows he'll soon be donning a red tie and overcoat as he gets drawn back into assisting the police.
Soon enough, a series of elaborate and grotesque murders pulls him back in. It feels like the show has gone through a checklist of the most repulsive things it could to construct this killer, and make him one to match other's in the show's history of deranged psychopaths.
There's cannibalism here, disturbing sexual fantasies too, and both the technological know-how to invade his victims' privacy and enough pre-planning to escape and outsmart the police on multiple occasions. He may be hard to catch, but how close the cops get to him in the final moments shows that it's cautiousness that is potentially holding them back, as Luther is prevented from entering the house and gives the man enough time to get away and, presumably, kill again.
It's bleak stuff, but only as bleak as the show has ever been. There's a certain level of dark outrageousness to Luther, as the show has always explored the darkest corners of the psyche. Considering how many horrific killers Luther has had to track down over the course of the show, it was never going to be somebody even more terrible who would get him back to work. It was always going to be something personal, and the show makes it clear that uncovering the truth about Alice is a large part of what has him back on the job. But he can't help be fascinated by another twisted killer, and compelled to catch him.
All the way through, this episode devotes a lot of its time to Luther's investigation of Alice's death, which he assumes is a murder. For all his digging, though, it doesn't feel like he finds out all that much until Alice wants him to, which would appear to be what is happening with the woman who turns up at the crime scene at the episode's end, saying that she has a message for him from Alice Morgan.
Is this a ridiculous plan in the event of her death or is she somehow still alive and in hiding? Most might guess it's the latter, but only the second part of this special will clue us in to the secrets Alice has been keeping.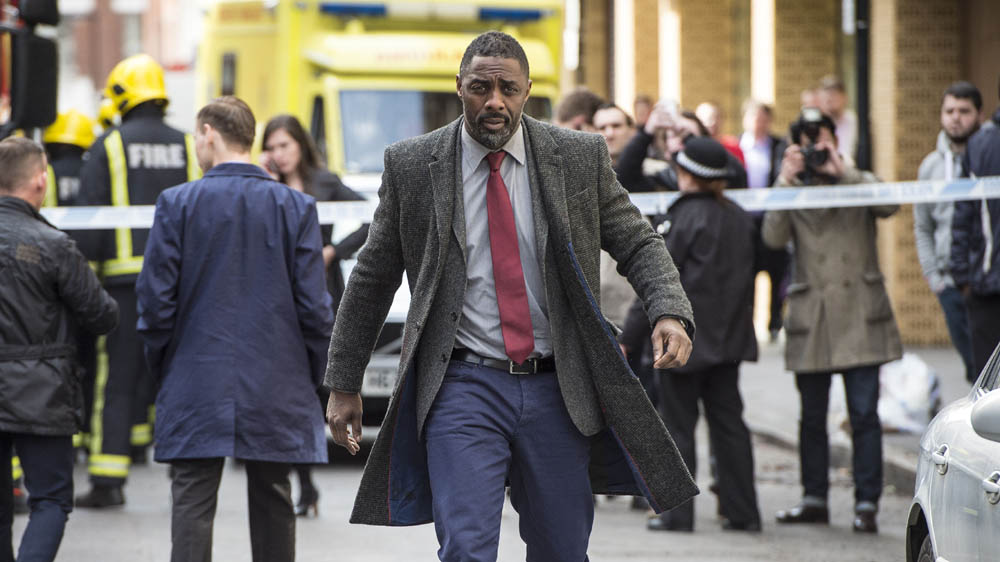 The show feels like it hasn't missed a beat at all. Elba's swaggeringly brash performance is back in all its glory, and he's got a great supporting cast around him. Leslie, in particular, makes a great impression in a short amount of time. The show's visual style is unchanged too, and it still feels like a unusual throwback that paints London as a city full of rundown, dark corners, has the police working out of an office that looks like it's from many years ago, and equips everyone with mobile phones that are at least a decade old.
All these little details contribute to making Luther such a distinctive detective drama, with its surprisingly successful blend of absurdly unpleasant subject matter with a genuine interest in police work and an intense character study.

Aired at 9pm on Tuesday 15 December 2015 on BBC One.
> Buy the complete Season 1-3 box set on Amazon.
What did you think of the return of Luther? Let us know below…