It's May of 1940 and the skies above London are full of RAF planes as ITV's new hotel drama The Halcyon continues.
The "phony war" rapidly becomes real when the Dutch surrender and German tanks cross the Maginot Line.
Conflict is brewing within The Halcyon and battle lines are drawn. Lady Hamilton observes Richard Garland talking to Charity Lambert as she departs for her husband's funeral. Mr. Garland is, of course, telling the odious Lambert that she may not pay her last respects but Lady H jumps to the wrong conclusion. Her mind is made up—Richard Garland must go.
In a touching scene with her son—the new Lord Hamilton—she implores him, "I need you for once in your bloody life to be a son to me. Help me." Freddie is focused on rejoining his fellow airmen and acquiesces to his mother's wishes, sacking RG.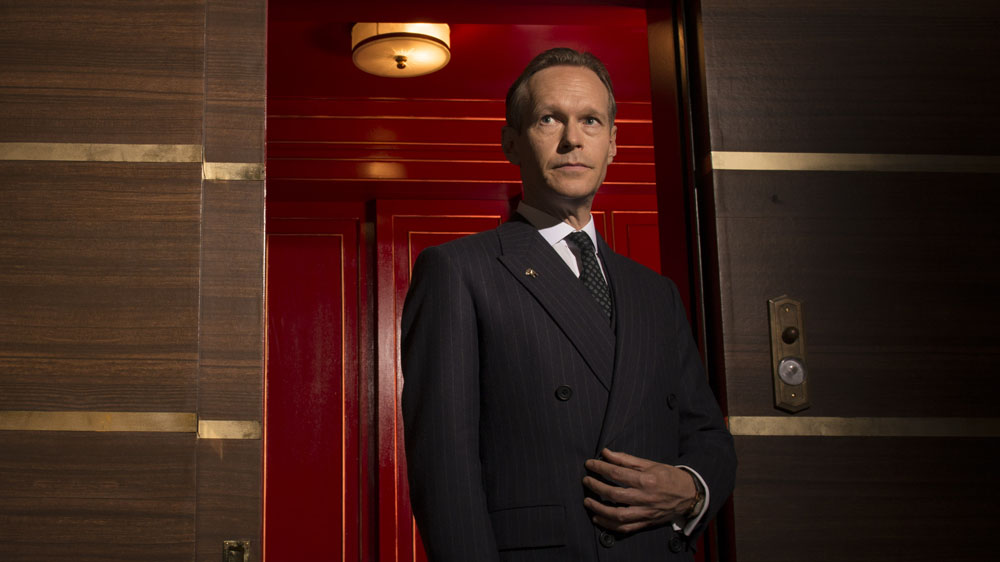 Mr. Garland takes the news in the most dignified fashion, sure that he'll be able to change their minds when they've thought things through. A later confrontation with Lady H disabuses him of this notion and he begins looking for another position.
His hopes of finding a job at one of the other five star hotels in London are dashed when one of his peers tells him that Lady H has blackballed him. "She's aristocracy; you're management," he tells RG. "You've made yourself a powerful enemy."
Emma goes out on the town with Betsey and runs into Freddie. While enjoying a dance with a girl he's clearly infatuated with, Freddie spills the beans that he's just fired her father. Their happy interlude comes to a screeching halt and we're left wondering what Freddie is using for brains.
RG—with the prospect of living in Feldman's badger-infested basement a strong possibility—has come to the end of his rope. He takes an action that we suspect—we hope—is uncharacteristic for him.
American reporter Joe O'Hara is proving himself to be a resourceful, big hearted Yank. He steps into the breach when a heart throb screen star is too chicken to travel to London to appear at the officer's dance as planned. O'Hara saves the day with a stirring speech. Continuing his good deeds, Joe tells RG that Charity Lambert is planning to write a tell-all memoir, trashing the Hamilton family and The Halcyon Hotel.
This piece of news proves to be the seed of Mr. Garland's salvation. Pulling another ace out of his sleeve, RG pays a visit to Ms. Lambert. With the help of Feldman and Billy, he convinces her to make a fast exit from London instead.
Toby and Freddie are adjusting to the world without their father. Toby assures Freddie that he doesn't have to be Lord Hamilton in the same way that their father filled the role. Freddie takes the message to heart and decides to retain Mr. Garland as manager. He warns the older man that his mother still has Mr. Garland in her sites.
"Make sure your house is in order," he warns RG. We think RG gets the picture.
In the final scene, Freddie has been recalled to his base. As he leaves Emma, he tells her, "When I think of this place, it's not my family; my father. It's you." Well done, Freddie.
Aired at 9pm on Monday 9 January 2017 on ITV.
Visit Barbara Hinske's official website here.
What did you think of this week's episode? Let us know below…