As the third season of The Syndicate draws to a close, Hazelwood Manor is having its grand re-opening party and is making itself open to the public.
However, this is not the only surprise going on at the Manor, as secrets are revealed and mysteries are solved.
The Lord Hazelwood / Julie / Sarah issues are addressed head on, given last week's (not quite) surprising revelation that Lord Charles is Sarah's biological father. Charles has found a way to stop Lady Rachel staking any kind of claim on Hazelwood if he can produce an alternative blood heir, meaning Julie (Melanie Hill) would have to come clean with Sarah about her heritage. Of course, Julie is against it.
"She's already so mad at me because she thinks we had a bit of a fling. Can you imagine what she'd be like if she found out? I don't want to go there."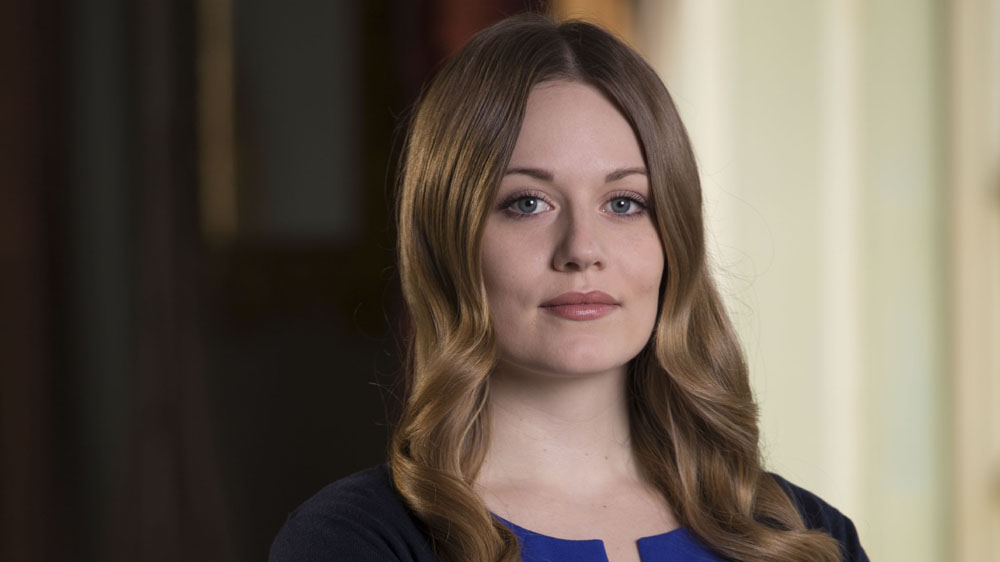 This storyline really gains steam here and, with Lady Rachel having left last week, it gives the main players in the story some real meat to work with: particularly Cara Theobold as Sarah and Anthony Andrews as Lord Charles. When the secret comes out that he is her real father you can really feel both of their pain.
"Nothing is positive" she tells him, angrily. "My whole life has been built on lies."
"We can't do anything to change the past," Lord Charles tells the guests, in a speech subtextually aimed at an angry Sarah. "It's what we do with our legacy that matters. We can only hope that we'll have a positive influence on our future."
Anthony Andrews is lovely here, giving real depth and paternal warmth to his performance as Lord Hazelwood. It's also gratifying that everything ends well but realistically, with Sarah explaining that she wants to take it slow, but does want her father in her life.
With Amy's disappearance and the mystery surrounding it being teased out a little each week, this is the storyline that needed major resolution. Luckily it is given plenty of room to explain itself, including some nice little twists from earlier episodes. The fact that Amy is alive is a huge reveal in itself but the story continues in some very interesting directions including a rather effective double cross.
"You don't think Amy could be on the yacht, do you?" Sean asks of her mother, Dawn. As it turns out she is, and from the moment we discover this and Amy attempts to escape from Spencer, the episode gains more momentum as we will Amy to return back to Hazelwood.
Credit must go to Daisy Head, who plays Amy. Such a pivotal part in the first episode but then resigned to flashbacks and visions, she really is put to good use here, putting in a layered performance that gives the right amount of sympathy, vulnerability and confusion. However, she tops this in the episodes closing scenes as she double crosses Spencer (Sam Phillips) and makes off with the cash. Kudos also to Phillips as the odious Spencer Hazelwood.
This episode is a real showcase to why The Syndicate works so successfully. The ensemble cast, all with a distinct personality and voice, work well with each other and interact superbly. Each are given plenty of time to develop and reach a conclusion to their stories.
The episode also makes appropriate use of the flashback scenes, a staple in this season to describe Amy's journey, but also brings in lots of little nods to previous episodes: Elaine C Smith's cameo, the reappearance of the reporter from Sean's episode, the explanation for Dawn seeing Amy trying to Facetime her etc. All a credit to Kay Mellor's strong writing skills.
As we say goodbye to the Hazelwood syndicate members, there's a real sense of their journeys reaching all new chapters.
Dawn goes into labour, bringing a new child into her life, as one of her children leaves hers. Both Sean and Sarah and Charles and Julie feel paired off romantically as well, though not as much as Godfrey, who gets engaged in the episode. There's a satisfaction to the stories here, rounding off a very strong season.
The Syndicate was definitely just the ticket!

Aired at 9pm on Tuesday 7 July 2015 on BBC One.
> Buy Season 1 on DVD on Amazon.
What did you think of the finale? Let us know below…