When we were told The X-Files was returning for a limited 'event' season, the creators assured us it would be a mix of the mythology episodes and some Monster of the Week episodes too.
Last week's opening episode, 'My Struggle', was firmly in the alien conspiracy format and at times it came across a little forced. However, once we hit the second episode with feet firmly running, everything is absolutely business as usual for Mulder and Scully.
It is worth noting that this wasn't originally intended to be the second episode; in fact it was the fifth entry in the season and, in almost nostalgic tradition, was switched around for reasons unknown. Does it make a difference? Not that I can tell.
By X-Files standards it this week's tale is pretty standard fare. A scientist used his own children as an experiment and created a pair of monsters with superhuman abilities. Spoiler alert! This is something he will come to regret.
With it being off the air for so long, it is easy to forget how gory, scary and unpleasant the show could be. 'Founder's Mutation' delivers on the gore and has some uncomfortable scenes that will stay with you. From the opening scenes of Dr Sanjay and his unique way of relieving a headache, the episode takes hold and refuses to let the audience go. There are some parts where the more timid viewer might want to hide behind the sofa.
The emergency roadside C Section is not something you will forget in a hurry.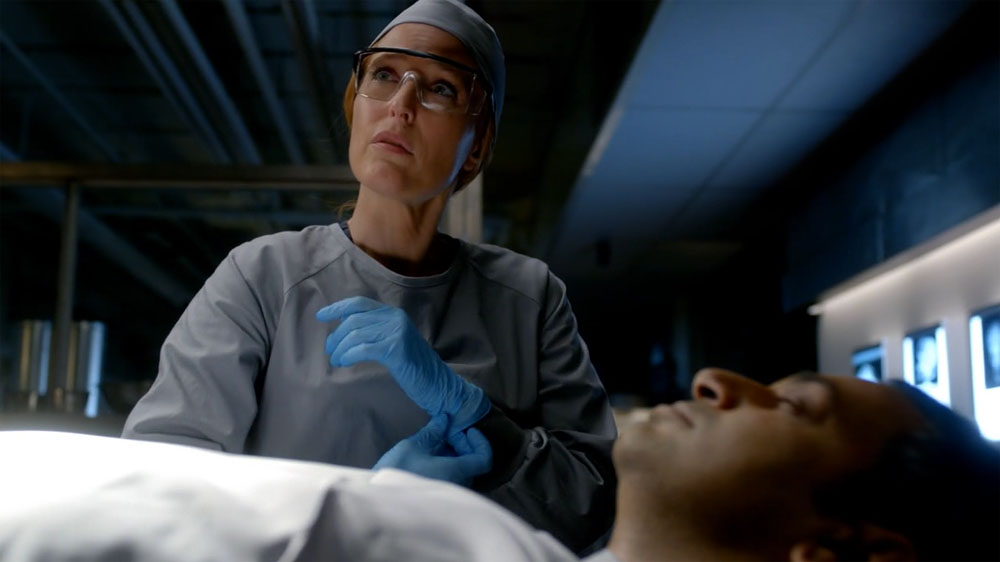 The best X-Files stories never had anything to do with aliens or government conspiracies, despite that being much of the focus; it was always the monsters that captured imaginations and stayed with us for the long term. Eugene Victor Tooms. The Flukeman. The Peacock family.
While 'Founder's Mutation' doesn't quite reach those standards (if anything the kids are underdeveloped as characters), it tells a solid standalone story and there will no doubt be some more interesting and scary monsters later in the season.
The episode still manages some callbacks to the past, notably with the ongoing mystery of Mulder and Scully's son William, who is presented here in some imaginary flashbacks from both characters. These moments are wonderful and show what Mulder and Scully would have wanted from a family life if they'd ever been allowed to have one.
The performances from Duchovny and Anderson are far more relaxed than in the premiere, falling all over the emotional spectrum from Mulder making wisecracks to Scully's absolutely believable grief at giving her son away for adoption.
It's a consistent script with excellent direction from James Wong, and everything here feels more comfortable – if you were a fan and 'My Struggle' left you unconvinced, then this episode will put you more at ease.
This is Mulder and Scully back doing what they do best.
"I blacked out after Goldman's eyes popped out of their sockets. Believe me, you can't unsee that."
Aired at 9pm on Monday 15 February 2016 on Channel 5.

> Buy the complete Season 1-9 boxset on Amazon.
What did you think of this week's episode? Let us know below…