One of Peaky Blinders' chief appeals (y'know, beyond the excellent cast, Stephen Knight's compelling writing, and David Caffrey's razor-in-your-cap sharp direction), is that it manages to engender the feeling of instability in the viewer.
Across each series, each episode, there's an unpredictable web of tension, and a sensation that at any moment anyone could die, or that some ghost from the past will turn up out of the smoke and sparks of Small Heath and turn Tommy's world upside down.
Or, even more unexpected than all of that: that someone could live.
The series reaffirms this manifesto of blood and unpredictability in it second episode. We're straight back in after the shocking conclusion to last week's opener, with newly bullet-riddled Michael and John being rushed to hospital in slow motion. And while it seems like both of them are doomed for the mortuary slab, the survival rate is 50/50.
John's the one for the coroner, which makes sense. Living a relatively sedate country life, wife and kids under the thatched roof, the show had written him into the kind of narrative cul-de-sac you can only reverse out of by dying or having someone close to you die. Such is the case here.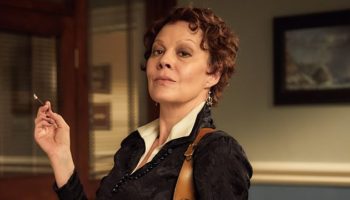 Michael's death would've been an easy way to create further strife between Aunt Pol and Tommy, but I'm glad it didn't happen. Pol and Tommy have always had a complicated relationship: reducing her to the role of 'vengeful mother' would've washed away 3 series of nuance and familial antagonism. Helen McCrory deserves more than that, and thankfully gets it.
Far better that Michael (Finn Cole, now doing a spot on impression of Tommy) lives and Pol still gets to be one of the few people – and really the lone female voice – who can truly catch the ear of Tommy's conscience. After all, she's the only one to call him out for using his family as bait to draw out an assassin at John's funeral. And by the end of the episode, as she comes to terms with escaping the hangman's noose and realising she's on extra time and 'free', it feels like her character is back under control of her old formidable self.
The Shelbys are back in the beautifully-rendered grimness of Small Heath and prepping for war with the Changrettas, which means guns galore and an uneasy alliance with crazy Aberama Gold (Adian Gillen) and his family.
From the moment he appears, Gillen – becoming you might say, the 'little finger' on the red right hand of the Shelby clan (ha!) – you know he's crazy. Sure, you've already been told it, but when you clap eyes on him you can instantly tell. He's too calm and controlled; exuding an aura of quiet menace and a sense that he's enjoying a joke you're not in on, in the way Paddy Considine's peado priest was. It's all calm up top, legs furiously kicking through blood below.
Tommy and Aberama's is an uneasy relationship. Well, they tend to be when they include flipping a coin to see if someone will win a yard or someone will have sex with their daughter, don't they? A spot of boxing brings them together (Tommy's 'What ambition might that be?' after watching Bonnie Gold's pugilistic practice is a rare but earned laugh aloud moment in the show), but you know it's just a matter of time until someone dies.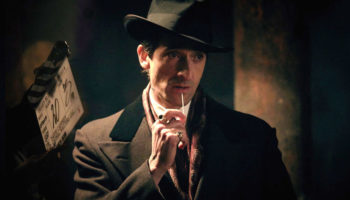 And the final ten minutes of the episode almost make you believe it might be Tommy. Only almost. Peaky Blinders thrives on its own instability, but it's not wild enough to stop paying Cillian Murphy.
Adrian Brody's Luca Changretta and Tommy come face to face, and as with so many of Peaky Blinders characters, introduces himself and sets out his character's entire stall with one great speech; a toothpick rattling around that mock Brando-esque voice as he talks tailoring and vendettas. Changretta's a man embodying essentially every Mafia stereotype, but rather than trying to steer clear of caricature Brody shoots straights for its heart and creates someone who wears all those cliches like a hand-stitched Italian suit and still manages to feel genuine and threatening.
It's a terrific scene: notably devoid of music so that you're left hanging on the sound of every word, wondering whether it'll be the last before a gunshot rings out. But it doesn't. 'I want you to be last,' Changretta tells Tommy, informing him, like all good villains, that he wants Tommy to suffer and to know he's lost everything. It's the culmination of a scene crackling with threat, and a sign the Shelbys are dealing with an enemy far more deadly and far more prepared, than they conceived.
They set out the rules (no civilians, no children, no police, no touching of the hair or face. That last one might be from Anchorman but it's a good rule) and Changretta parts. The board is set up, the bullets are ready to fly, and by the end of the episode, as Tommy fires round after round at a wall in a fit of grief, you get the feeling this is going to be the most violent and unpredictable series yet.
Bring it on.