Quick update here: BBC Worldwide has confirmed that there's been a small delay in the release of the Doctor Who season 12 Blu-ray collection. It's been put back – for undisclosed reasons – to June 18th 2018. Other than that, as you were…
Previously…
Earlier this year, we reported that in the US, Tom Baker's first series in Doctor Who was being released on the Blu-ray format. Given that very little classic Who has made it to Blu-ray, this was notable news. But at the time, there were no plans we knew of to bring the release to the UK.
Good news, then. Not only is Doctor Who: The Collection Season 12 arriving on Blu-ray in the UK after all, it's also got a release date. The set will be available from June 11th 2018, and include a fair wealth of new extra features too. What's more, the artwork will be the first Doctor Who disc releases to include the brand new Doctor Who branding. Take a look…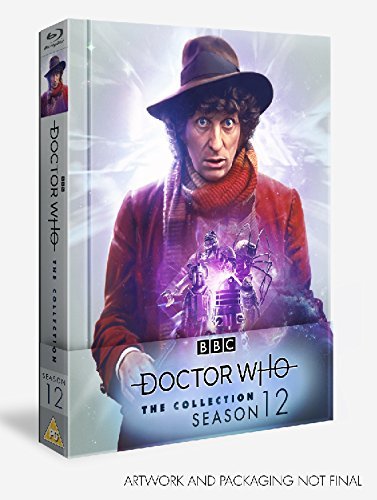 As per the listing at Amazon, here's the full list of extra features too…
Existing Extras
Existing bonus material from the original DVDs
Brand New Bonus Features
Brand new one hour candid interview – 'Tom Baker in conversation'
Behind The Sofa – classic clips from season 12 viewed by Tom Baker, Philip Hinchcliffe, Louise Jameson, Janet Fielding, Sarah Sutton and Sadie Miller.
New making-of documentaries for 'The Sontaran Experiment' and 'Revenge of the Cybermen'
Optional brand new updated special effects for Revenge of the Cybermen
Genesis of the Daleks – omnibus movie version
The Tom Baker Years VHS release on disc for the first time
Production archive material and scripts from the BBC Archives
Some other archive treats to be announced
The episodes includes in the set will be Genesis Of The Daleks, Robot, The Ark In Space, Revenge Of The Cybermen and The Sontaran Experiment.
You can find the set up for order right here, where you can also gleam further details.